Photo exhibition portrays beauty outside the US
The Eighth Annual Juried Global Photo Exhibition is right here in the university's own Roberta's Art Gallery. The exhibition this time around, focuses on a topic which we are all no doubt tired off yet can't ignore: COVID-19. Titled "Our Global Travelers in These Times," the exhibition tries to focus on the experience of the photographers who got more than they bargained for when studying abroad as COVID-19 just started to spread.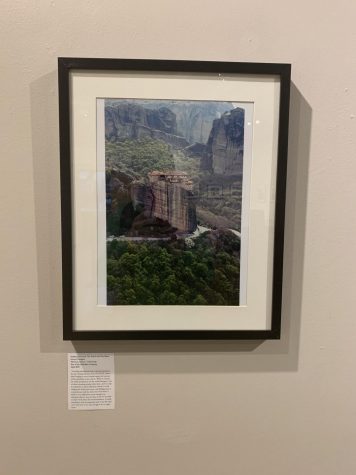 However, while the chosen category for the photo exhibition may be a bit of the downer, the photos presented are sure to brighten up the spirits of those who see them as it did for me when I went to see the exhibit. The photos provided in the exhibit all show beautiful scenery and many show a lively vibrating world of cars, people, and nature in a pre-COVID time that many may feel nostalgic for. Along with the portraits were letters on the bottom of each photo, giving the information of the photographer along with a nice short statement from said photographer elaborating on the picture and their experience abroad.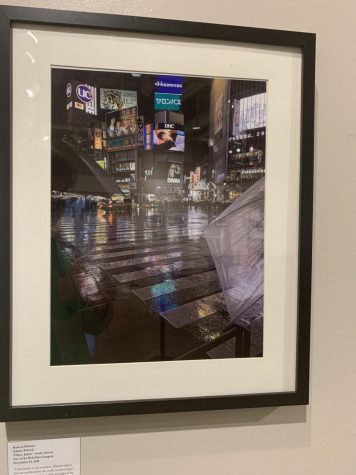 One of the photos that got my attention the most would have to be a beautiful picture titled "Halfway between The Earth and The Skies" which was taken by Jessica Nettgen, who was on a school trip to Greece when she captured the picture of an old temple based on a cliff within a mountainous region of Greece. The reason the photo captured my attention so much at first was because it reminded me of a painting my mother had made that I saw in the hallway all the time, and then at second viewing, it showed more to me than being just a piece of nostalgia as it showed an entire mountainous environment complemented by an old temple that seemed to defy nature as it stoop upon one of the steepest cliffs I've ever seen.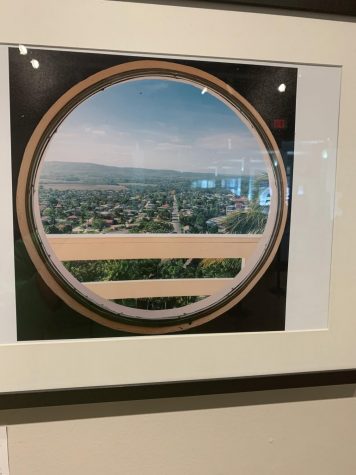 The exhibit also had many more photos to view, one that may get folks nostalgic for pre-COVID times would be the photo titled "Rain in Shibuya" which showed a lively Japanese City at night, with no lockdown in sight. But of course, if I tried to talk about every photo I saw at the exhibition this article may be more than a thousand words long. So, if you have the free time, and just want to see some beautifully taken pictures of the world abroad, then I recommend giving the The 8th Annual Juried Global Photo Exhibition a look. If you wish to have more information on the exhibition itself, you can find it here.
https://www.uww.edu/uc/things-to-do/robertas-art-gallery#exhibits