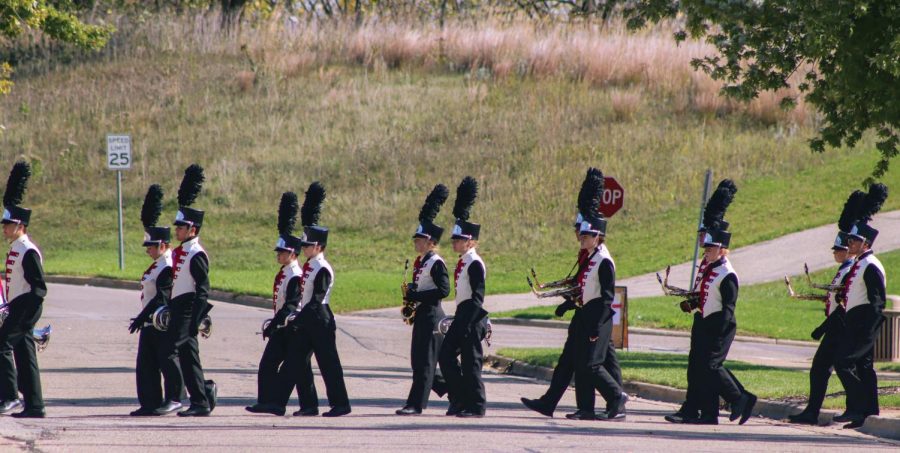 Ky McCombe
There's a whistling in the wind around the UW-Whitewater campus, and its not from the spirits that surround Second Salem. The 36th annual Wisconsin High School Marching Band Championships took place at Perkins Stadium Saturday, Oct .17 for music fans from around the Badger State. 
This event is an important learning experience and a fun competition for the hundreds of high school students that come to the UW-W campus. Nattalie Hatzung a junior says that
"We worked incredibly hard to get here. More than half our band had never marched before, and it was really cool to see the progress we made," says high school junio Nattalie Hatzung. "It was a really cool experience. The last time I was here, it was in 8th grade so it's good to be back." 
 The stadium is much bigger than a normal high school, so this affected how they performed. It wasn't what they are used to performing on for a typical football half-time performance.
"It's completely different when you have the press box. And with so many people it changes a lot. We definitely have to play louder," says Hatzung. 
Some of the bands performing are directed by former members of the UW-W marching band, and one of the bands is even directed by former UW-W student Mat Reicheardt.
"Part of the process to prepare for this event is to perform big both musically and visually", says Reicheardt. "We aren't too focused on the scores. We are more focused on doing our best and the scores will take care of themselves." 
Throughout the day several schools from across the state competed. They are divided into four different classes: 1A, 2A ,3A, and 4A. The classes are based on each of the schools' total enrollment. The judges for this years event are Music Performance Ensemble: Beth A. Fabrizio, Music General Effect: John Phillips, Music General Effect: Albert Lo, Visual Performance Ensemble: Juno Orefice, Visual Performance General Effect: Ken Giese, Visual Performance General, Effect: Lee Carlson, Color Guard: Christine Dillon, Percussion: Julia Davila. The day started with class 3A, then 1A, followed by class 4A, and the night ended with class 2A competing last.
Champions were crowned throughout the day, keeping up the excitement for the crowds. River Falls High school took the class 3A championship and Cumberland High School won the 1A class. Oak Creek High School won the 4A class, and Greendale High School won the class 2A championship. 
For a full recap of official results visit https://wsmamusic.org/files/2021/10/2021-State.pdf.