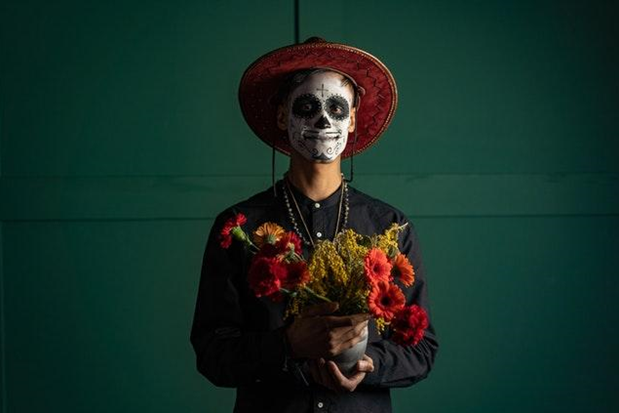 As Halloween approaches, people are rushing to buy last minute costumes, decorations, pumpkins, and homemade treats for the ghoulish festivities. But we often forget the two days after Halloween that are equally as festive and heavy with meaning, Dia De Los Muertos. 
As we were told by Deacon Hector Villareal last, "All Souls' Day is a Catholic tradition in which Catholics commemorate the dead by praying for their souls. Rituals include visiting family graves and bringing flowers to place at the graves.in some parts of Mexico and other countries, families have the tradition of building an altar in their homes to remember their loved ones that have passed away. The altar consists of pictures of the deceased family members, candles, flowers, food dishes their loved ones liked, fresh fruit, sugar skulls and any other thing that the deceased person liked."
As we are told by Maria Jose Meneses this holiday even pre-dates Spanish Mexico and was celebrated by the Aztecs who honored their dead with skulls. Later  moved to coincide with All Souls day. l 
 Although this day is called the day of the dead, it is actually a celebration of life and death. It is meant to be a time to remember  the lives of past loved ones and a way to communicate and honor them from beyond the afterlife with family gatherings that include food, music, dancing, and elaborate costumes and decoration of many colors. It is also believed that families alive and dead are given permissions to communicate, celebrate, and be with their loved ones again as a large family gathering of living and dead.
All the objects used to celebrate have meaning for this celebration, especially objects used in the altar or "offerenda." Meneses provided for us an easy chart that lists each piece. And also how to celebrate the holiday at home!
The Offerenda: 
The four elements: Ofrendas include the four elements of water, wind, earth, and fire. These elements represent the deceased person's journey as they find the path to rest in peace finally. Water is left in a pitcher to give the spirits something to quench their thirst. Colorful paper banners or "papel picado" are hung across the altar to represent the wind. The earth is represented by food, including bread and homemade meals. Many candles are placed at the altar in the form of a cross to provide the fire element and help the spirits find their way home.
Structure: Most Day of the Dead altars consist of one to three levels, with three most common. These levels represent heaven, earth, and the underworld. More elaborate altars may include up to seven levels. The altar may be covered with a white tablecloth, preferably one passed down from family members. You may also adorn the altar with a colorful tablecloth if you choose. Some Mexicans also sprinkle salt on the altar to protect the body from breaking down as it travels between the realm of the dead and the world of the living.
Personal items: Framed photos of the deceased loved one are commonly placed on the altar. Some of the person's belongings can also be included so that they have items they recognize when they return for their brief visit.
Sugar skulls: These colorful treats are made by hand and can include the person's name inscribed on the forehead. These sugar skulls or calaveras are added to the altar to represent the person's spirit. Calaveras are also placed on the loved one's grave to serve as an offering to honor their spirit. Some sugar skulls are made of clay and painted in bright colors.
Marigolds: These beautiful, brightly colored cempasúchil flowers adorn altars and graves and are also worn on costumes and in women's hair. It's said that the flower's vibrant colors and potent fragrance help lure the dead's souls back home.
How to celebrate at home:
Build an altar: You can build your own ofrenda or altar on a table or a cabinet with multiple shelves. Be sure to incorporate all of the elements, including the water, fire, earth, and wind elements. A pitcher of water, your loved one's favorite food, framed pictures, and several candles are appropriate to add. You may also place some of their most treasured belongings on the altar. Be sure to adorn the ofrenda with a colorful paper banner, too.
DIY papel picado: Make your own banner or papel picado with colorful tissue or lightweight table covers. Vibrant colors of blue, yellow, pink, green, and red are best. Trace several different sugar skull designs on the paper, then cut them out using scissors or a sharp knife. Be sure to cut out holes for the eyes, nose, and mouth and cut out a few shapes around the skull to give it a decorative touch. You may also use rectangles and cut out flowers­­ and other shapes. String each piece of tissue paper together using a lightweight rope or some string, then drape your papel picado across the altar. You can also display the banners above a doorway or hang them on a wall.
Catrina/sugar skull face painting and costume-wearing: You may paint your face to represent La Catrina using red, white, and black. The red represents the love for departed friends and family members. Black and white resemble mortality and the spirits of those who passed. Your face should have a white base, with black painted around the eyes and mouth. Red floral designs are then painted around the forehead, cheeks, and chin. You may also add more vibrant colors if you desire. A long, floral dress or gown is often worn by women, as well as elaborate floral headdresses or hair jewelry. Men typically wear black suits and a large black hat adorned with marigolds, roses, and other flowers.
Dress the Catrina/Make a Catrina paper doll: If you have a skeleton figurine, dress it in the style of Catrina using small flowers and bright colors. You can also make a DIY Catrina paper doll using a small paper tube as the body and a lollipop for the head. Cover the doll with colorful tissue, paying close attention to her gown and face. Draw her face on paper, color it with markers, then attach it using craft glue. Take strips of colorful tissue and wrap them around her to design a beautiful Día de los Muertos gown.
Gather with the family to eat: Día de los Muertos is a celebration centered around food, music, and dancing. Spend time together as a family eating traditional food and candy and sip on a cup of delicious Mexican hot chocolate. Bake some pan de muerto or "Bread of the Dead." This traditional Mexican bread is easy to make, and it can be shaped into animal, flower, or skull designs if you choose. Other traditional dishes include candied pumpkin (calabaza en tacha), corn tamales, pozole, and mole.
Write literary Calaveras: Literary Calaveras are lighthearted epitaphs that are written to honor the dead. You can also write some to honor a few people you love that are still alive. When writing your Calavera, think of things about the person that are humorous or specific things about them that makes them unique. The lines don't have to rhyme, but they are often written as a multi-lined poem with rhyming verses. Once you write it, decorate the borders with colorful sugar skulls, flowers, or other Day of the Dead designs. Use colorful markers or colored pencils on a large sheet of white construction paper to make it. You can hang the literary Calaveras on your altar or give them to a loved one as a gift.