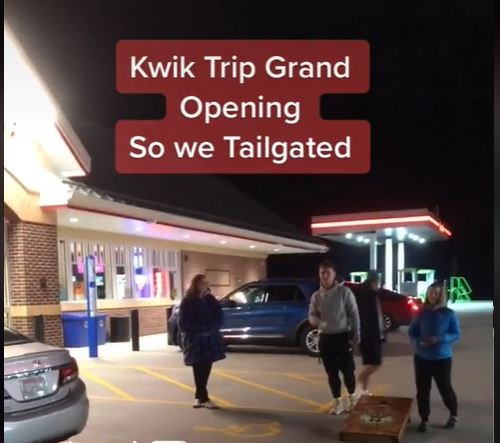 There is nothing more Wisconite than tailgating, however, tailgating at Kwik Trip takes it to a whole other level. Recently a UW-Whitewater student went viral on TikTok after a video of him and a group of friends tailgating outside of the Elkhorn Road Kwik Trip on it's grand opening day gained over 190,000 views and over 30,000 likes. Dec. 9, 2021 at 5 a.m. Tyler Lund and his friends decided to grab their coats and cornhole boards to wait outside in the Whitewater gas station's parking lot until the doors opened for the first time ever. 
"Basically me and my co-worker Andrew Montana were sitting at work one day and we were like, 'We should just tailgate this thing. It would be the most Wisconsinite thing we could ever do. Maybe they'll give us some recognition being some of the first customers, so why not do it?' In the end, it had us go viral so that was pretty awesome," said Lund, a senior finance and sports management major.
The idea came spontaneously yet it has not only led to a viral video, but also plans for a much larger, sponsored tailgating event in front of the Whitewater Kwik Trip on Janesville Street for it's grand opening day Thursday, Jan. 2o, 2022.
"After the first TikTok, I went a week later to the Kwik Trip that was open and just talked to the store manager. He thought it was an awesome idea and got me connected with corporate to continue conversations. I was just talking to Kwik Trip corporate about it a couple days ago. We're going to advertise for this event. We are planning to do a bag tournament so Kwik Trip is going to give away gift cards and merchandise to make this one a bigger story and get a bigger crowd," said Lund.
It's not everyday when Whitewater gets to celebrate a new business coming to town and these students found the perfect way to not only get their fill of spicy chicken sandwiches and Karuba coffee, but also create something exciting. All are welcome to the grand opening of the Janesville Street Kwik Trip, store number 1065, Jan. 20 with the cornhole tournament beginning at 3 a.m.