Loyalist Women in Revolutionary Philadelphia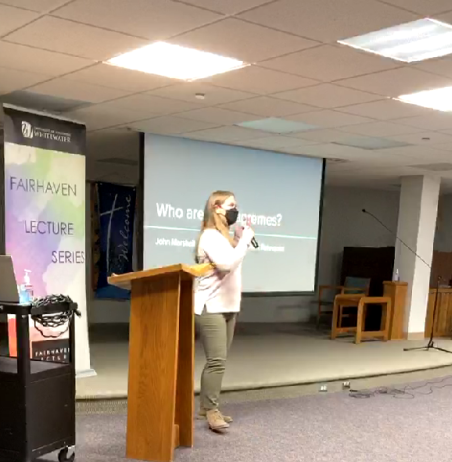 The Fairhaven Lecture Series held another American Profiles event Feb. 21 featuring College of Letters and Sciences associate professor Kimberly Nath in a talk about Loyalist Women in Revolutionary Philadelphia. 
Kari Borne started the event with a few opening statements about the series, before introducing Dr. Nath. She shared her excited about the lectures opening up for the public again. 
"We're very happy to be back here this spring after being gone for a couple of years," said Borne. "You don't have to be a resident of Fairhaven to attend the lectures at this point."
The lecture that proceeded highlighted the lesser-known fact that loyalist women were often those who sided with Great Britain during the Revolutionary War, but not every woman with this label shared these beliefs. Women could be called "Loyalists" because of their husband's stance on the war, which could cause these ladies to lose a lot socially. 
"There's more that I think needs to be unpacked in that," said Nath "Could a woman be political? Could she have a political voice? Could she have a political identity? Or, did her identity just have to be that of her husband?" 
 According to Nath, Philadelphia had become a sort of capital for loyalists during the Revolutionary War. British soldiers took over Philadelphia causing extreme damage to the city. However, when women's loyalist husbands left for war, they were entrusted to protect their houses. They struggled to take care of their children, their house, and were tasked to decide to possibly run away. 
Some women like Susannah Marshall, Sarah Logan Fisher, and Grace Galloway lost everything. However, some took it as an opportunity to start a new life. Margaret Locke and is an example of somebody who changed unfortunate circumstances into a chance to grow in strength and determination. 
 "I also think what's very evident in this is that while the American Revolution clearly tore families apart, these women rose to this challenge and they were truly remarkable. They had to do so much in the absence of their husbands and in the absence of having their own political voice," said Nath. 
Nath gave a very passionate and knowledge-filled lecture about loyalist women during the Revolutionary War to an appreciative audience. She not only explained how the war affected loyalist women, but also described the many difficulties of the times, and how these extraordinary women rose above adversity for a better life.