Grad student grows in new housing role
The UW-W spring semester of 2022 introduced something the campus has never seen before. Previous Resident Assistant (RA) of Wells East Hall, RJ Mitchell, was able to graduate from his position and immediately take over as complex director (CD) of the hall. 
Mitchell started his education at UW-W as an English Education Major originally. Eventually, Mitchell realized that intermediate education was not the career he would want to end up in. He ended up graduating with his Associate's Degree in the spring of 2019, but had no teaching license. Though teaching in a high school wasn't RJ's ideal career path, he decided he wanted to be involved in education in some capacity.
"I was like, I need to go back to school and get my Master's in higher education, which led me back to Whitewater," says Mitchell. "I did my first semester of that commuting from home, and I realized I wasn't building any experience for my resume, so I applied to be an RA and got placed on the Wells East staff."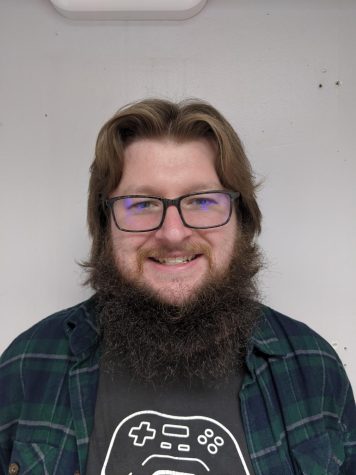 Mitchell worked two semesters as a resident assistant under two separate complex directors, Justin Dickerson and Cedrick Freeman. After being appointed in the fall of 2021, Freeman had to leave the position after one semester due to a family emergency. Before he left, Mitchell was able to ask Freeman to give his name to the campus as a potential replacement. 
"I had known Cedrick would be leaving. And so I put out there 'Hey, I don't know what the plans are going forward, and I don't know if there's a chance for this, but I'm graduating in December and will need a job and a place to live. Would you put my name forward, if you think my name is worth putting forward?" said Mitchell. 
Through Freeman's recommendation and a group of resident assistants from the same staff as RJ speaking to Director of Residence Life Terry Tumbarello, he was offered the job the week before Thanksgiving break. 
Throughout Mitchell's first semester as a complex director, surprising positives have emerged from having a younger CD in the building. Staff interactions are one of the most apparent. 
In his first year as a Resident Assistant, Mitchell closely worked with his Co-RA, Jessica Conway, who now works underneath him. Though the power dynamic changed between the two, Conway states that the working relationship still works well.
"Because RJ came in knowing myself and my fellow RA's on a friend level, he already had an idea of how we work and our personalities. Thus, he's able to lead and make changes specific to us. For example, for upcoming staff meetings, we will have to devote a portion of those meetings to further our training and review the RA core competencies. RJ asked us how we felt about having us staff members lead an activity for the training, with each co-pair of RA's running one meeting. We had an open discussion and relayed that we felt very overwhelmed and didn't know if taking on that extra responsibility was a good fit. We all voted on it, and ultimately it was decided that RJ would lead the meetings and training like usual. RJ saw the potential for us to try something new, and he thought it would be easier for us to learn from our peers. He proposed it to us, but then let us decide for ourselves, and I think that shows what a leader he is," said Conway. 
Along with this, some student interactions have been impacted by this situation. Most all, seem to be positive. 
"I was the resident assistant of Wells East 5th floor last fall – so some of those residents I have continued to work with," said Mitchell. "But with other residents that I might have never seen before… they have been surprised that they were meeting with a young man."
One student even said that once he saw Mitchell was younger, it made him more comfortable to speak with him. Overall, it seems that the emergency hiring of Mitchell has inspired Wells East to become a better residence hall for students and staff alike. 
"RJ is a great person to work with and a great leader. He's very conscientious, honest and actively promotes open communication. He's always willing to listen and does a great job of making himself available to his staff," said Conway. "He's doing a great job as the CD, and I'm glad to have him as my boss."