Senior provides strong defensive presence
Morgan Jensen is a senior at UW-Whitewater and an integral part of the Warhawk volleyball team. In the 2021 season, the defensive specialist from Sun Prairie earned honors as the WIAC defensive player of the year. Jensen has just under 1,500 digs in her career and is well on her way to smash that mark by the end of the 2022 season. In addition to being an excellent volleyball player, Jensen is also a music major and often performs the National Anthem before matches. Through her many talents, confidence and ambitious nature, Jensen resembles exactly what it means to be a Warhawk student-athlete.
Q: Why is playing volleyball so important to you?
A: Volleyball is a huge part of my life and I play, because I am a super competitive person. I love to compete, not just in volleyball but in every aspect of my life and volleyball gives me a great outlet where I can do that to the fullest extent. Especially at Whitewater, we are a really competitive program, so I love that.
Q: What does being a Warhawk mean to you?
A: It means knowing that there are a lot of people behind you that have your back and are there to support you, especially in the athletic department. There are a lot of people that understand the pressure and expectations of making sure that you and your team are successful.
Q: What lessons have you learned from volleyball on and off the court?
A: The biggest lesson I have learned from volleyball off the court is time management and just trying to figure out how to get everything done during the day while I balance volleyball, school, and work. The biggest thing volleyball has taught me on the court is working hard and sticking with something even though you may be tired and you may want to quit, you just have to keep pushing through.
Q: What are the team's goals as you start to approach the end of the season?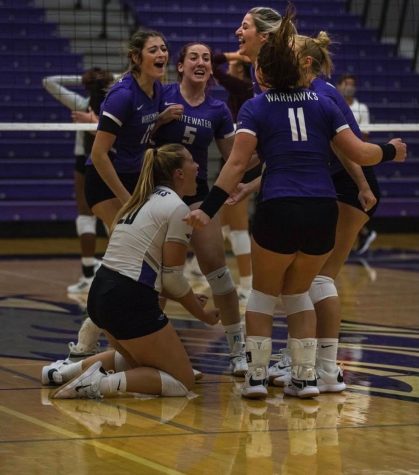 A: Our goal is to host the conference tournament and that is what we are really competing for right now when we have conference play. If you win the conference you get to host the conference tournament and then if you win the conference tournament you get an automatic bid to the NCAA tournament. We are really successful at home so we really like our chances at home, which would make it a huge advantage to play at home in the tournament. 
Q: Do you think Whitewater does a good job supporting female athletes and if so how?
A: I think Whitewater does a good job supporting female athletes. I feel like there are always societal norms that we struggle with that male athletes don't have to struggle with. On the football team they have lots of support from the community and they get lots of funding where the volleyball team is not as popular as a sport so we have to work for our funding by running camps in the summer. I feel like we put in a lot of work on our own so that we can have the things we have during the season.
Q: Why is it important to have female leaders like head coach Stacy Boudreau in positions to mentor female athletes?
A: I think it is important because coach Boudreau is just someone I look up to so much. She has an entire family at home and she coaches and that is something I could see myself doing someday. To see a female in that role and a female being successful in that role is so exciting, because it makes me feel like that is something I can accomplish. 
Jensen and the Warhawk volleyball team will look to continue to build off their impressive start to the season. The team is in position to achieve their goal of winning the WIAC conference and earning the opportunity to host the conference tournament. The Warhawks will travel to La Crosse Wednesday, Oct. 19 for their next matchup.