'Solidarity not charity'
Learning about mutual aid
Wrapping up the fall semester, the Warhawk Connection Center (WCC) partnered with IMPACT to give a presentation on the topic of mutual aid. As explained in the presentation, mutual aid is voluntary exchange of resources and services between members of a community. 
"What charity kind of does, is depict the poor as the reason for the circumstantial situation where mutual aid pretty much names the government for the process that has been put in place as the reason we are where we are today," said WCC Program Specialist Aaron Broadwater.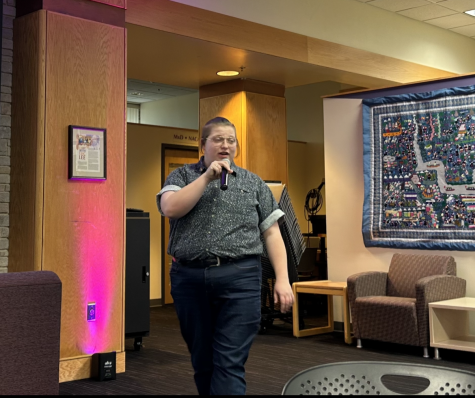 The presentation also defined the difference between charity and mutual aid. One big difference between the two is that mutual aid focuses on solidarity to create change rather than the top down pyramid of charity. Charity often means that money is distributed to those that are deemed worthy to receive money by an organization or individual. Many times wealthy individuals who give large amounts of money to charity are giving an insignificant portion of their wealth to those in need. In contrast, mutual aid is where members of a community take direct action in solving a problem by pooling resources to fix or alleviate the needs within their community. It focuses on solidarity, cooperation, and understanding among people to get what they need outside the injustice of government implemented systems and programs. 
Some examples were also mentioned  of social movements and well-known groups that have implemented programs and pulled together resources to help serve the people in their community. One example was the Black Panther Party who organized the Free Breakfast for Children Program where they offered breakfast all year round. The program was started in the late 1960s when many African American children struggled in school due to hunger and poverty. This continued until the Black Panther Party was forced to disband by the United States government; however, the model by which the party established was later adopted by the USDA to which sparked the implementation of similar food programs that are still being run today.
Another group that was mentioned was the Chicken Soup Brigade that collected money from those at a park using a soup cup to feed those living with HIV/AIDS who did not have access to nourishment. They are still one of the leaders in helping those living with HIV/AIDS today.
A point was also brought up that many people participate in mutual aid without even knowing it, but some might be unaware of how to foster mutual aid in their own communities. The first step in doing so is to know which mutual aid programs are already available in your community. If you don't have a pre-existing mutual aid program for the need in your community you can always start one yourself, but if you do have mutual aid programs there are many ways you can support them by offering up your time or monetary and non-monetary resources. They also made a point out leveraging your personal skills as an individual when assisting mutual aid programs in your community can also be a valuable resource.
"Like if you know how to crochet you can make a hat and donate it to the winter clothing drive," said program coordinator for IMPACT and WCC intern Orin Smith. "Use the skills you have to help your community."
So whether it be donating hats, your time, money, or any other resources that you have, knowing that making a change isn't charity, but creating change through solidarity.