UW-W alumnus hits six gallon mark for blood donated
By Andrea Behling
Mike Doyle remembers vividly the first time he donated blood as a student at UW-Whitewater in the late 1960s.
"I'll never forget it," Doyle said. "Whenever I give blood or see someone I don't know, I'll always tell the story on how I started giving blood."
Doyle was excited to hear about the free lunch being given out at the Whitewater Armory for people who donated blood.
"When you're a college student, free lunch is an easy decision," Doyle said.
It was an even easier decision for Doyle, whose father had recently died and money was tight as a sophomore in college. So he walked down to the armory where he stood in a long line. After giving blood painlessly, he was escorted to a waiting area where they sat at tables, waiting to be served a delicious sandwich.
"These little old ladies would come out with these trays of sandwiches—one side was white bread and one side was wheat bread and they were ham salad."
The home-cooked meal meant more to Doyle than the little old ladies probably knew. When they asked him if he wanted another, he gladly obliged.
"What a no brainer. I mean, you're doing something really nice and then you get a free lunch," Doyle said.
Doyle went on to donate at every drive held at UW-Whitewater until he graduated. It was this experience that marked the beginning of Doyle's longterm commitment to blood donation. Today, Doyle has donated nearly six gallons of blood.
Having an O negative blood type, his blood is universally accepted by all blood types, making him the perfect donor.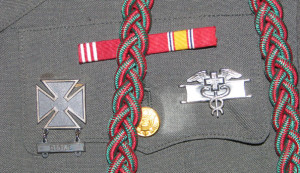 "People like him are really important to us because every single person can get his blood," said Heidi Ognibene, director of operations at the Rock River Valley Blood Center in Rockford, Ill. "He's not very common. His blood is often used in premature infants because there is no typing on it, so it's really easy for newborns' immune systems to handle it."
When Doyle graduated from UW-Whitewater in 1970, he was drafted into the army toward the end of the Vietnam war. They made him a medic, and he soon learned how to draw blood himself.
"I was never afraid of needles or taking blood because that's what I mostly did in Germany," Doyle said.
After his enlistment, Doyle continued donating blood regularly. A Belvidere, Ill. resident, Doyle worked many years for the Rockford Register Star and is currently a high school geography and journalism teacher at Belvidere North High School. Doyle said he likes to show his students his Rock River Valley Blood Center four gallon plaque he received a few years ago to get them excited about donating as well.
"I show them my plaque and they say 'Four gallons? That's a lot!'" Doyle said. "And we [our school] has a tremendous response [to blood drives], and that's a great thing."
Blood drives visit the high school twice a year, which Doyle often serves as a volunteer as well as a donor. Ognibene said high school blood drives and college campus blood drives are huge for blood centers in terms of the number of donors that show up.
"We have a really strong high school program, and the college visits are also big events for us," Ognibene said.
A Red Cross blood drive will be held in Whitewater this Friday from noon to 6 p.m. at the Whitewater Armory at 146 W. North St. Other upcoming blood drives in the area include two in Fort Atkinson on Sept. 18 at the American Legion, 201 S. Water St. and on Nov. 13 at the Fort Atkinson Armory, 420 Bark River Drive.
Ognibene said the biggest incentive they can provide donors is a guarantee that they can feel proud of donating to someone in need.
"We depend on volunteers, and we really are big proponents of your community helping your hospitals that serve that community," Ognibene said.