Music faculty exercise what they teach
Practice still key in recital preparation
Feb. 5, 2014
By Lauren Piek
Two music department faculty members will put on recitals in February to encourage music students to continue their growth in music education.
Professor Matthew Sintchak will perform a saxophone recital at 7:30 p.m. on Feb. 7, and Professor Robin Fellows will  perform a flute recital at 7:30 p.m. on Feb. 11, both at the Light Recital Hall.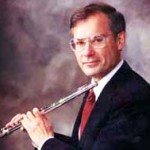 Sintchak and Fellows began playing their respective instruments at a young age. Fellows said he was originally going to play piano or clarinet but was encouraged to try flute instead.
Fellows said while vacationing with his family in Lake Erie he found his interest in music.
"I was sitting on the beach in the sand and found a beer bottle," Fellows said. "I started blowing across the top of it, and the high school band director of the local town—who was part of one of the families on vacation with us—said 'hey, he'd make a good flute player.'"
Fellows played the flute throughout high school and took lessons at the University of Buffalo as a high school junior. His parents agreed to pay for lessons if he practiced  two hours a day, so he decided to dedicate himself to flute, Fellows said.
Fellows teaches various music courses at UW-Whitewater, including Introduction to Classical Music, Flute Quartets, Woodwind Techniques and flute lessons.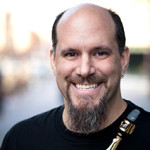 Sintchak began playing saxophone in fifth grade but said he didn't decide to pursue the instrument as a career until college. Sintchak teaches various jazz courses, saxophone quartets, woodwind techniques, and saxophone lessons.
Both professors agreed they enjoy the collaborative process of playing music with other people, rather than playing solo music.
"The cool thing about music is that you get to socialize and interact with people, but you're not using words — you're playing music," Sintchak said. "It allows you to be lots of different characters."
Sintchak will play saxophone at his recital and will be accompanied by pianist and friend Cheryl Lemmons. The first piece they will perform is called "San Antonio," which is a piece that Sintchak commissioned in the '90s.
The recital also will feature pieces inspired by tango and salsa-type music.
At 12:30 p.m. on Feb. 9, Sintchak and Lemmons will perform the same set for the Wisconsin Public Radio program "Live from the Chazen," in Madison. Other UW-Whitewater faculty members have been featured on the program as well, Sintchak said.
Fellows will play flute at his recital, accompanied by a violinist. Clarinet professor, Dr. Christian Ellenwood, wrote a piece specifically for Fellows' recital. The recital will feature one, if not two, chamber pieces, Fellows said.
The recitals are meant to not only showcase the professors' talent, but also to encourage music students to remain persistent with their music education goals.
"Practice," Fellows said. "The most important thing, if students are planning to be a music teacher, is to take their lessons."
Sintchak and Fellows despite being successful in the music world, practice is still critical to their expertise.
"Practice as much as possible," Sintchak said. "Practicing and learning your instrument is the key to learning how music is all put together, and it makes people a better teacher and a better player."