Alumni excel in their job fields
April 3, 2014
by Allyson Karnowski
With graduation only weeks away, it's common for seniors to wonder about life following the commencement ceremony. For some alumni, life after graduation has been great, and they thank UW-Whitewater for their success.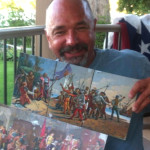 Gunar Gruenke, class of 1991, is the president and co-owner of Conrad Schmitt Studios, Inc., a company that restores and conserves pieces of art and architecture.
Born and raised with the family business, Gruenke said he originally had dreams of becoming a multi-millionaire before switching to more realistic dreams of running a small business.
Gruenke graduated with a general business degree and an emphasis on business administration, recognizing UW-Whitewater as a fantastic business school.
"I felt prepared for life after graduation," Gruenke said. "I was able to focus on classes that would be directly applicable to my future."
Now married with children in Delafield, Wis., Gruenke uses lessons he learned more than 20 years ago in college every day to oversee his family-owned stained glass studio. He also has served as president of the Stained Glass Association of America and director of the Western Great Lakes Chapter of the Association for Preservation Technology.
Gruenke is a third-generation owner, following after his father and grandfather, supervising restorations and new stained glass projects. He sees his education from UW-W was vital, looking back at all he learned.
"I graduated and got thrown into the fire," Gruenke said. "But I believe life experience is equally as valuable as the education."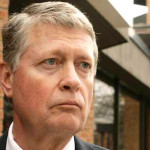 Former Wisconsin Sen. Jim Holperin is a 1973 graduate who also credits UW-W with helping him succeed.
From Eagle River, Wis., Holperin studied at UW-W and received a Bachelor of Science in English and a minor in history.  Soon after leaving UW-W, he went on to law school but dropped out when he realized his desire to join politics.
In 1982, Holperin began his political career when elected into the Wisconsin State Assembly. Serving for 12 years in the 46th District seat of the Assembly, Holperin said being in the Assembly was one of the most significant events of his life – besides marrying his wife, Kathy.
Although his path to politics didn't begin until almost a decade after graduating, Holperin said college helped him gain direction for his future.
"Four years at Whitewater exposed me to new ideas and gave me a sense that I had potential," Holperin said. "Instructors taught me to understand and respect others' point of view, which is especially important as a legislature."
Retiring from the Assembly in 1994, it was nine years later that Holperin was appointed by Gov. Jim Doyle as Secretary of the Wisconsin Department of Tourism. He assisted in developing the annual tourism plans and supervised sites around Wisconsin during this time.
Holperin moved on to become a Wisconsin State Senator from 2009 to 2013, before finally settling back down in Eagle River, where he and his wife run both a craft and hobby shop and a toy store.
Even as many years have passed since he has graduated, Holperin was able to name several professors and classes that had a major impact on his life.
"I couldn't have accomplished what I did without the education I received," Holperin said.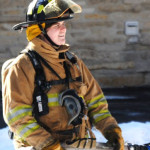 A more recent graduate, Casey McCall, can relate to the graduating seniors, as she was in the same position only years ago.
McCall earned her bachelor's degree in secondary education in 2011 and stayed at UW-W for her graduate degree in corporate communication. She now works as an Emergency Medical Service Coordinator at All Saints Hospital in Racine, as well as a part-time firefighter and paramedic in Lisbon.
While McCall mentioned there is no preparing for the "real world," she sees how UW-W has taught important lessons she will remember for years to come.
"My professors at Whitewater were instrumental in helping me realize that I didn't have to give up my personal interests in order to find professional success," McCall said, remembering not wanting to give up her passions in emergency services.
Fusing her enjoyment of working in emergency services and her academic work after being challenged by her professors, McCall said she was able to further her career as a firefighter and paramedic, while also earning a full-time job at a hospital.
McCall had put her lifelong goal of becoming a licensed advanced care provider on hold during college. She has finished her training and licensing in the past months, fulfilling her hopes of becoming a paramedic.
McCall offered words of encouragement to current students.
"Don't let your degree define you; you are not confined to your major," McCall said.
McCall has taken this advice to heart after studying teaching and communication, yet finding her dream job in health care. She said keeping options open and looking for jobs outside your major can help students not miss out on great opportunities.
For all three of these alumni, they eventually had jobs following the major they studied but also used the influence of faculty and personal life lessons along the way.
"It might all seem unrelated, but a college degree is designed to broaden your entire knowledge base, not narrow it down," McCall said.