Jazz it up with Howes two-day music residency
April 9, 2014
By Abrielle Backhaus
Christian Howes grew up winning competitions as a classical violinist in Columbus, Ohio. He went on to create educational music workshops and a website and will soon bring his knowledge to campus.
Howes founded an online learning site in 2011, the Creative Strings Academy. The site offers curriculum for teachers to instruct improvisation, harmony, and eclectic styles in their own classrooms.
After finding his passion of music education as an associate professor at the Berklee College of Music, he began creating workshops. One especially known is his annual Creative Strings Workshop and Festival. The weeklong conference provides adult and teen string players an opportunity to experience improvisational music through public performances, rehearsals and clinics.
"It started with my daughter actually; she started playing when she was young, and I teach her and found that I enjoy it and am good at it," Howes said.
Howes said he likes to think of his workshops as teaching "expanded musicianship."
His educational clinics provide musicians crucial skills and understanding related to practical music theory, creativity and an awareness and appreciation for a wide range of styles.
"Jazz is very creative and takes a lot of crafting," Howes said.
Jazz ensemble I Director Matthew Sintchak heard about Howes through a colleague and said he thought the jazz residency would be a great opportunity for string musicians to learn about jazz.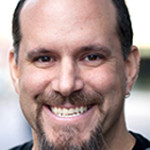 Sintchak said the two-day jazz residency is open to the public, but the culmination of the event will be the concert on the evening of April 15.
"The group that I run is the jazz ensemble, which is a big band will be playing a few things with him in addition to this combo that will be playing with him and then also a group called Alternative String Ensemble," Sintchak said.
Sintchak said the event took many professors to coordinate, but the main goal is to educate.
"I think the biggest goal for his residency is to break a little bit the stigma of string instruments not being jazz instruments," Sintchak said.
Howes said he knows expanding musical horizons can be difficult, but he hopes he can reverse that through his workshops.
As a classically trained musician, Howes said he hopes to relate to the audience and broaden its perspective.
"Students can expect to hear music with a lot of feeling and hopefully build an encouraging atmosphere," Howes said.
Howes said he travels constantly, and, while it may be tiring, he meets many interesting people daily.
"I think there are inspirations that come from everywhere; every day I meet people that may inspire me," Howes said.
Howes has won several awards for his work including the No. 1 "Rising Star" violinist in the Downbeat Critics Poll in 2011 and in 2013, he was voted among the top three violinists in JazzTimes' "2012 Expanded Critics Poll."
Howes will bring his expertise to UW-W April 14 and 15 to teach interested music students about music through class clinics and a concluding performance at 7:30 p.m. April 15 in the Light Recital Hall.