RP Outdoors: A reason for gun season
There's something about the fresh snow, cold air and my frozen moustache that makes me incredibly nostalgic for gun-deer season. I'm not the only one who's counting down. Luckily, I only have to wait a few more days.
For some families across Wisconsin, gun-deer season is a bonafied holiday in its own right.
By the time mid-November comes around, pick-up trucks across the state are loaded with enough beer, bratwurst and ammunition to supply a small army.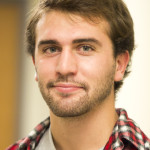 As you may have guessed, my childhood was no different. Every year my father and uncles would prepare for gun-deer season with the same ritualistic precision as an Aztec human sacrifice.
The trip upnorth, the Milwaukee's Best Light and the endless hours of sheepshead all filled me with a sense of childlike wonder I can only describe
as "Redneck Christmas."
Before I continue, I should be honest with you. This column isn't actually about hunting. I can tell you what it sounds like when a buck snaps a twig behind your stand, but you won't feel the adrenaline pulse through your body.
I can tell you what gun powder mixed with rotting leaves smells like on a crisp November morning, but it won't make the hair on the back of your neck stand up.
I can tell you with all honesty, however, the gun-deer season I remember best was the year I didn't see a darn thing.
About six years ago, the day before opening morning, my uncle Eric Felsinger stopped by my house to talk about the hunt we were going on the next morning.
"What's going on Jakey?"  he said. "I got you this knife, buddy. We're going to shoot a buck tomorrow, get a nice picture, all that good stuff!"
When he left, I looked down at the knife. Engraved on it were the words 'To Jake, from Uncle Eric Fall 2008.'
That weekend, Eric and I hunted for hours on end and we didn't even see a squirrel. By the end of it, we had resorted to shooting pumpkins with Eric's AR-15.
But what's the big deal, right? I got to shoot a high-powered assault rifle at fruit, but so does every other redneck kid in America (#murica).
The truth is, Eric had terminal cancer, and passed away a few short months later.
I know, I know. It's not funny anymore, and now there has to be a moral to the story. All I can really say about it is; Eric's gone.
He left me with a knife and the most memorable season of my life.
So here's something for all you hunters on campus:
Deer season is not about shooting a deer.
It's about the time, laughs and conversations spent with friends and family. I wouldn't trade the last hunt I shared with Eric for the biggest buck in the world.
Cherish the time spent in the woods but more importantly, cherish the time spend with one another.
Good luck hunters. Stay safe this season.
RP Outdoors is an occasional column appearing in the Royal Purple.