DA will not prosecute in alleged sexual assault case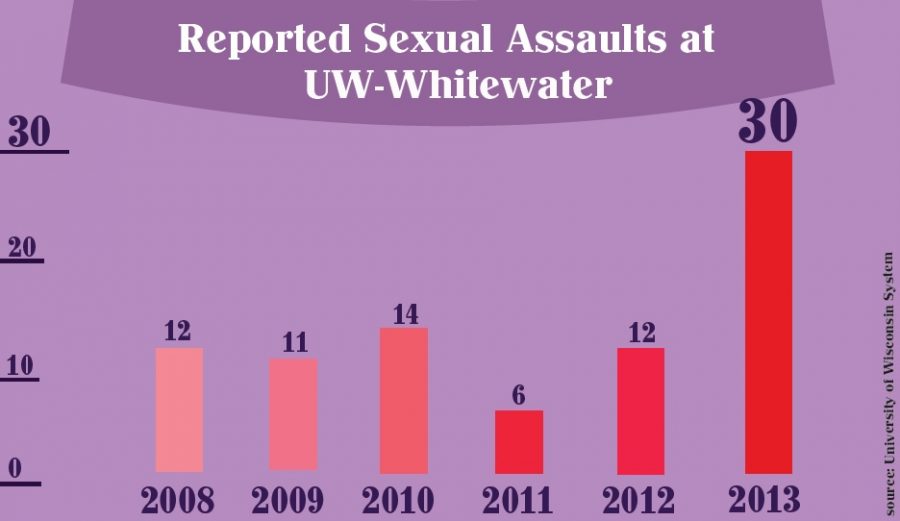 Feb. 18, 2015
By Alexandria Zamecnik
The Walworth County District Attorney will not prosecute a collegiate wrestler who was visiting UW-Whitewater on April 17, 2014 on a recruiting visit for alleged Second Degree Sexual Assault.
Dequence Goodman, 21, who is currently a wrestler at University of Central Missouri, spent the night of his visit attending off-campus parties with a female UW-Whitewater student, according to an official incident report released by the Whitewater Police Department on Feb. 13.
The female student was asked by an assistant wrestling coach to take three recruits out to parties, according to the report. After going to a friend's house with the recruits, she "blacked out" at approximately midnight and woke up the next morning in her bed, to find blood on her shorts and sheets. Additionally, she had pain in the anus.
Whitewater Police Officer William Becker, who responded to the case and collected evidence from the student including: bed sheets, clothing and a sexual assault evidence collection kit. Becker also collected clothing and DNA swabs from the inner cheeks of Goodman, voluntarily. He first visited her at Fort Atkinson Hospital, where she was examined. DNA analysis found no semen on any of the swabs, but found other DNA profiles in the vaginal, cervical and dried secretion swabs. This DNA is consistent with Goodman's account of using his fingers to penetrate the student.
Goodman said the two engaged in consensual sexual activities throughout the night and went back to the female's apartment afterwards. Goodman and the female began to become intimate, however, he told the female nothing would happen and went to sleep in the hallway, according to the report.
Another account by Ryan Fritsch, a senior at UW-W, said he witnessed was a physical altercation after the student refused to go into a back room during a party with Goodman.
"Fritsch said he then observed [the female] strike Goodman several times," according to the report. "Fritsch again said 'she was very trashed.'"
After the female received the DNA findings from Officer Becker, she said she still wanted to go forward with the charges.
The Walworth County DA's Office sent a letter declining to issue charges for the official reason that the case cannot be proven beyond a reasonable doubt. A letter sent to the victim from Assistant DA Haley Rea said sexual assault cases are very difficult.
"In reaching this decision, the District Attorney's Office does not mean to suggest that your version of the events was not complete or trustworthy," Rea said in the letter. "In criminal cases, each element of an offense must be proven beyond a reasonable doubt."
The Walworth County District Attorney's Office did not respond to phone calls from the Royal Purple by press time.
In light of the alleged sexual assault, multiple violations in coordination with the National Collegiate Athletic Association (NCAA) and Wisconsin Intercollegiate Athletic Conference (WIAC) were found against the wrestling team including recruits receiving travel, lodging and food benefits.
Zachary Selan, a former student and the subject who was in charge of watching the recruits the night the alleged sexual assault happened, violated multiple NCAA rules by talking to recruits in person or social media and physically bringing them to campus.
After reports of rule violations and alleged sexual assault emerged, former assistant coach Chris Heilman resigned and former head coach Tim Fader's contract was not renewed.
Although specific changes have not been made to recruiting visits, UW-W Director of Athletics Amy Edmonds emphasized that the athletic department has been making sure it's following the NCAA and WIAC rules more carefully.
New information has been added to uwwsports.com to give more detailed information to current and prospective athletes, coaches, students and faculty.
"Certainly we weren't as transparent, if you want to say that," Edmonds said. "We didn't have all these wonderful links and documents and such on our website. Now we've done that to allow anybody and everybody to take a peek at what our practices are."
Along with allowing the public to look at the departments practices, Edmonds encouraged the campus to  discuss sexual assault by playing the "It's On Us" UW-W campaign video at athletic events.
"It's On Us" is a campaign to shift the way people think about sexual assault.
"My daughters are 8 and 11, and so when they saw the video, they were like 'well, what is that mom?,' so we were able to talk about that and I think that's important," Edmonds said. "Now not everybody shares that same philosophy, but in my personal experience, and student services has always been one of the pieces in my wheelhouse, that having a conversation is what is important. That video can help spark those conversations."