Company designs unique lock box
Feb. 25, 2015
By Rumasa Noor
Riemer Systems, Whitewater-based startup, designs reliable lock boxes to keep the medications secure from unauthorized individuals.
The company's main target markets have been hospitals and medical research groups such as the Mayo Clinic. But it has recently started working on designing lock boxes for homes.
Riemer Systems took a nontraditional route by designing see-through boxes instead of old-fashioned metal ones for storing the medications. The company also went keyless, which added to the uniqueness of their products.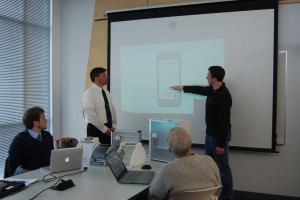 "Our products are truly unique keyless locking systems known as The Easy View Keyless Lock Box," Company owner Dave Riemer said. "The Easy View lock boxes are providing [Joint Commission on the Accreditation of Healthcare Organizations] (JCAHO) compliance in the hospital market in hospitals and VA hospitals across the country and our Portable Electronic Control Box (PECB) and tracking software is a proven solution for [Drug Enforcement Administration] (DEA) compliance in the long-term care industry."
Riemer said the products were initially developed to be sold commercially, but he is now developing more consumer-based products.
"We are looking at an affordable, effective lock box for the home for securing medications in the home that would interface with the smartphone app for managing the security of the medication as well as prescriptions and alerts and reminders," Riemer said.
One of the key purposes of Riemer System lock boxes is not only to keep drugs out of the reach of those who are unauthorized to access them, but to also "improve the management" of the drugs.
The business owner originally came up with the idea in 2000, after a family friend mentioned to him the problem with medications being left unsupervised on anesthesia carts. Riemer found the idea intriguing and decided to work on making a product that would solve this issue.
In the forthcoming years, Riemer developed the prototype of the product and presented it to some of the hospitals. His company officially took off after that.
"2005 is when we started working with a medical rep, Armstrong Medical, and they got us on the map," Riemer said. "Mayo Clinic was one of our first big customers and they ordered a lot of boxes."
Riemer joined the Whitewater Innovation Center in June 2014. His company started to grow further as Phil Lloyd, Matthew Bakich and Elliot Thome joined the product development team.
Lloyd became a part of the company three months later and has been helping Riemer ever since.
UW-Whitewater students Thome and Bakich became members in November. Bakich said they both have been primarily focusing on market research and application development for the company.
"One thing I learned is that product development is really hard," Thome said. "It's been a really rewarding experience. It's great to put on a resume, and then having a really fun time with this, I can't wait to see what this product looks like in the future."
Riemer said they are currently concentrating on pricing the application and conducting a beta test, which is the second phase of product testing.
They expect to finish the prototype of the box and the application in two to three months.
Riemer is a sales engineer by profession, and runs Riemer Systems in his free time. He hopes to make it his full-time business some day.
The innovator said he received tremendous amount of help from UW-W. The university connected him with faculty members such as Denise Ehlen and Choton Basu, and students, particularly Bakich and Thome, who are now assisting him in developing his final product, he said.
For more information, visit www.riemersystems.com.