Trivia nights give students alternative downtown fun
By Ashley McCallum
Lifestyle Editor
Oct. 7, 2015
Nelson Rockefeller served as the vice-president under president Gerald Ford, Belle was the name of the beauty from "Beauty and the Beast," and Tin Lizzy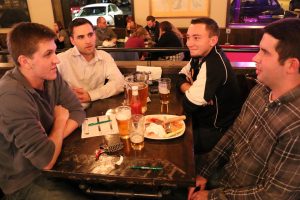 was the nickname for Ford's Model T.
If you knew any of those facts before now, you may do well at trivia nights at Fat Jack's and Second Salem Brewing Co., hosted by Quizmaster Trivia.
Quizmaster hosts Trivia nights at 39 different locations across Wisconsin including Whitewater, Milwaukee and Lake Geneva. Quizmaster hires hosts from the local area where the quizzes are held. Hosts are paid for each event they run and get a hand in choosing some of the questions for the night.
Teams are limited to eight people and the cost is $1 for each team member. Teams can name themselves and the Quizmaster host will choose the best team name at the end of the night. Prizes for winning team names and teams who win the trivia contest vary on location, but in Whitewater both Fat Jack's and Second Salem offer gift cards to the winning team of the trivia contest.
The trivia questions are split into categories: history and politics, geography, sports and leisure, movies and television, music, and a  wager round where contestants guess the name of songs that hosts play out loud.
Teams write their answers on provided pieces of paper and at the end, an opposing team chalks up the points earned as the host gives the answers.
Although the trivia nights at Fat Jack's and Second Salem are both hosted by Quizmaster, they offer a slightly different atmosphere that may appeal to different crowds.
Fat Jack's
Fat Jack's had an exciting and upbeat atmosphere consisting of mainly college students. The bartenders and servers were friendly and conversational and even engaged in the trivia with contestants for overall great service. The host made an effort to be outgoing and interactive with the contestants, but fell a little short and was at times slightly uncomfortable. The music was loud which made it a little difficult to communicate as a team, but was not surprising due to the bar atmosphere. Fat Jacks' trivia night is ideal for a fun pick-me-up at the beginning of the week.
Second Salem
Second Salem was as busy as Fat Jack's but had a much calmer atmosphere. The contestants consisted of some college students but also a more mature crowd, some professors and members of the community. The servers were friendly but did not make any extra effort and was overall bland.  The host at Second Salem was much more comfortable in the role and did a great job engaging the crowd. Second Salem is ideal if you're looking for a relaxing night out at the end of the week.