DIY: Fall Decorations
Jordan Barker, Staff Writer
October 12, 2016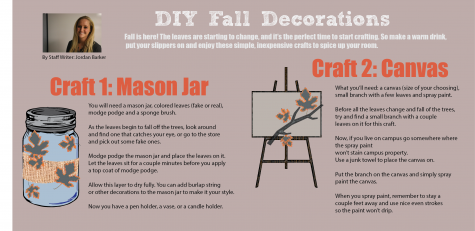 Fall is here! The leaves are starting to change, and it's the perfect time to start crafting. So make a warm drink, put your slippers on and enjoy these simple, inexpensive crafts to spice up your room.
What you'll need: a canvas (size of your choosing), small branch with a few leaves and spray paint.
Before all the leaves change and fall of the trees, try and find a small branch with a couple leaves on it for this craft. Now, if you live on campus go somewhere where the spray paint won't stain campus property. Use a junk towel to place the canvas on. Put the branch on the canvas and simply spray paint the canvas. When you spray paint, remember to stay a couple feet away and use nice even strokes so the paint won't drip.
If you're looking to get a little more creative, check out the craft below.
You will need a mason jar, colored leaves (fake or real), modge podge and a sponge brush.
As the leaves begin to fall off the trees, look around and find one that catches your eye, or go to the store and pick out some fake ones.
Modge podge the mason jar and place the leaves on it. Let the leaves sit for a couple minutes before you apply a top coat of modge podge. Allow this layer to dry fully. You can add burlap string or other decorations to the mason jar to make it your style. Now you have a pen holder, a vase, or a candle holder.