Dorm door decor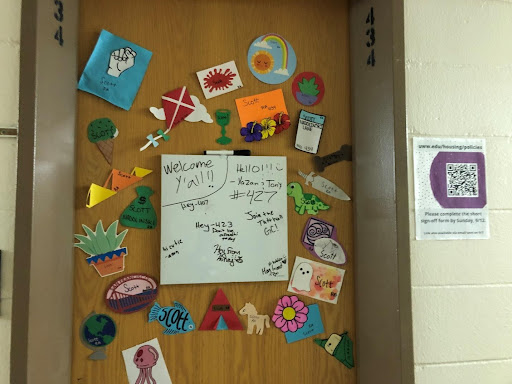 Now that the fall semester is officially in session, students living on campus have started to settle into their residence halls. But, because school has only just begun, many do not have much to do, especially those unfamiliar to the area. So, some students are opting to fill their time with a tradition UW-Whitewater students have carried on for years – dorm door decorating. 
In addition to getting their rooms all fancied up, many students also chosen to add a little flare to their dorm doors. This could include adding photographs, cartoons, drawings that represent them, or just a simple name tag. 
Dorm door decorating is a very popular thing in residence halls, as it serves as an enjoyable activity for students to get involved in and feel welcomed.
"It just makes it more fun around the floor. It definitely helps create more of a sense of community on the floor. You know, having fun decorations kind of lightens the mood for everyone, I think," according to Tutt Hall Resident Assistant (RA) Scott Nadolinski.
"It's good for making friendships, too! For some, people will knock on your door and be like 'Hey, your door's really cool!'" said Carina Serna, a front desk worker for Weller's Hall.
This year, each of the residence hall floors has a specific decorating theme that students are encouraged to follow.
"I know the third floor in Tutt's is travel. I think their door decs are like airplanes and suitcases. And I know in Fischer, the first floor is SpongeBob-themed. So, like jellyfish and krabby patties," said Christina Xiong, an RA in Tutt Hall.
Xiong also mentioned that her floor is following a state park-nature theme. So, they have been incorporating images of things such as fish, campfires, and leaves. 
Although there are different themes to follow, the most important part of door decorating is to just have fun with it. There aren't many rules or guidelines students have to adhere to. According to Nadolinski, "It's pretty open to your imagination, your creativity."
Even if students choose not to decorate, each person will have at least one piece of door décor, a themed name tag, which is given to them by an RA. 
"The point of the door dec is to make students feel welcome. So, usually we write their names on the doors," said Xiong. 
So far this year, not many students have decided to decorate their doors. Nadolinski even said that only one door on his entire floor was designed. However, in past years, that didn't seem to be the case. 
Serna mentioned that last year during Halloween, she remembered seeing a lot of cool, spooky-themed doors. She also said that during previous semesters, due to COVID, many people decided to decorate their doors, as there wasn't much else to do.
So, if you're feeling a little creative, artistic, or just downright bored, try decorating your dorm door! Because the semester has only just begun, there is still plenty of time to get involved in the fun. Nadolinski suggested that many students may still be settling in, and that more decorating might start soon.
"Hopefully, in the coming days, we'll get a few people," he said.