Club Sports return bigger than ever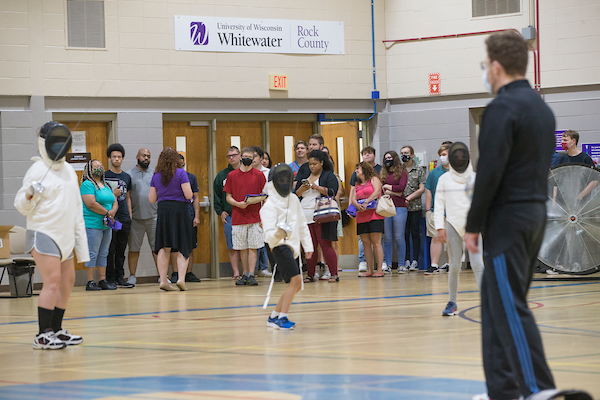 As we get back to normal, we're seeing the return of Club Sports in a big way on the UW-Whitewater campus. After the challenges posed by the pandemic last year, Club Sports athletes are excited to be back in full swing this fall.
"We are beyond excited to be back," said Director of Club Sports Matt Schneider. "Fencing would traditionally have six members on their roster; they have 30 people regularly going to their practices." 
The uptick in numbers is in part due to the pandemic. Last year some students were not on campus and meeting people was difficult. A major attraction of club sports is that "Club sports are a great way to meet a lot of people." 
Last year club sports were able to participate in practices; however, they were limited in what they could do and had to make many adjustments in order to meet safety guidelines. 
Schneider was wowed by the level of interest that students have shown in joining club sports this fall. He said that Club Sports offer an opportunity to meet people that have similar interests and could be like minded individuals. He also mentioned that because club sports are student led organizations, they can be great resume builders.
The Warhawks will be having competitions with other university clubs; however, things may be different than in the past. 
"We're very fortunate for the Chancellor's Cabinet, the EOC (Emergency Operations Center), Walworth, Jefferson, Rock County – they've all been fairly supportive and understanding of what we're doing. Other institutions might not be so fortunate." 
Schneider added that it can be a struggle to know which other institutions are back. Despite some uncertainty with other teams the schedule is packed for our Warhawk club sports teams. 
A few sports that could be making headlines include Men's Rugby, a consistent conference winner that went deep into the playoffs, and Men's Bowling which is the tw0-time defending national champion. 
Women's Rugby is on the come up after getting their first win in a couple years. Men's and Women's Volleyball have interest "through the roof," and a new club is remerging on campus for the first time in a few years. 
Water Polo Club has been inactive for four or five years, but is resurfacing under the lead of president Ann Fulk.  
Fulk has played since the age of 12 and thought it would be great if Whitewater had a club. She had been trying to start the club for some time, but due to covid and the long process of getting approved, it took a long while. According to Fulk, there have been 55 people interested in joining the club and they have not even held their first practice yet.
 "It is a really, really fun sport and a great new experience," Fulk said. 
The goals for them this semester are to get in the pool and practice, with hopes that next semester they can begin playing against other school's clubs. Playing against other schools would require the team to raise some funds just so that UW-W is well equipped enough to be capable of hosting a game.
For those who are interested in joining the co-ed Water Polo Club, it's not too late to show your interest. Practices begin for the team October 4.