Diversity Forum features Asian ethnicities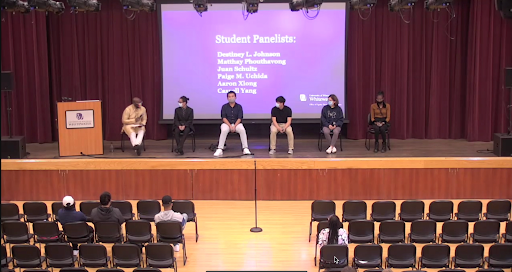 In the fall enrollment of 2020-2021, just 1.9 percent of undergraduate students and 3.5 percent of graduate students were Asian American, Native Hawaiian or of Pacific Islander descent. But that small percent is an important part of the UW-Whitewater student body, as this year's Diversity Forum made clear to the campus. 
Each semester, UWW hosts a diversity forum with the theme of JEDI: Justice, Equity, Diversity, and Inclusion. A diversity forum brings awareness to students, faculty, staff, and the Whitewater community on the basis of differences, and importantly how to celebrate or embrace those differences. This semester, the diversity forum held Tuesday, Oct. 5 – 7 focused on Asian American and Pacific Islander (AAPI). The event kicked off with featured guest speakers Senior Equity, Diversity and Inclusion Officer of the UW System Dr. Warren R. Anderson and UW-Whitewater Interim Chancellor Dr. James P. Henderson. The event was hosted by the Equity, Diversity, Inclusion and Support Programs division, which was established last year. 
"We have to learn, we have to grow, we have to understand and authenticate differences," Associate Vice Chancellor of Equity, Diversity, Inclusion and Support Programs, Kenny Yarbrough said. "The reason why we settled on the theme [JEDI] of this year, and specifically using AAPI, we see what's going on in our country this year, and I thought it was relevant that we discuss those topics." 
Yarbrough continued talking about how certain ethnicities can be left out when there is discussion about diversity issues. He wanted to give an opportunity for students, staff, and faculty to learn and grow on this specific topic. 
Learning, growing, listening and understanding are important terms when improving interactions and relationships with AAPI students, faculty, and staff on campus. 
"If we listen to what people's lived experiences are, and how things in the world are affecting specific groups, even if that's not your group. You can understand how it can affect them," Yarbrough said. 
On the last day of the forum, there was a student panel discussion speaking about issues happening in our country with a heavy AAPI focus, while also including other ethnicities.
Yarbrough posed a question to the panelists about whether they felt a personal or academic connection, or observed their peers to be affected by what is being shown on the news relating to the topic of hate crimes. 
"On a personal and professional level or academic level, it kind of intimidates me to apply for jobs because I feel that being of an Asian descent, and those who are Asian are related to the Coronavirus," senior Cassell Yang said. "It makes me sad because even though I'm vaccinated, I'm still around those [co-workers] who feel that I may be contracted with this virus, and I feel kind of like a threat to them." 
All the students in the panel shared many personal connections to issues happening in the country. As attendees listened to these students speak, all that anyone could do was be open to listen, grow, understand, and appreciate the stories and experiences being told. 
The Diversity Forum welcomes all who want to learn more about different minority groups. This semester, the forum was held in a hybrid form with most students joining virtually. The JEDI theme will continue through the spring semester with a focus on social justice.