What will spring look like? Interim Chancellor Jim Henderson answers the WSG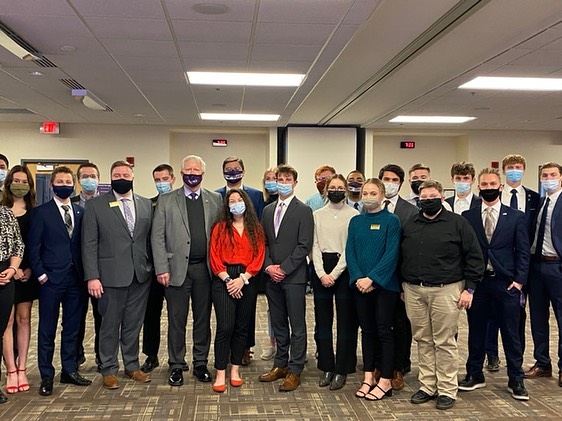 The Whitewater Student Government welcomed guest speaker Interim Chancellor Jim Henderson to discuss issues the university faces, among those were covid-19 policies.
The chancellor joined the government body for the first time in person since taking office five months ago. With the semester coming to an end, he provided some answers to what next semester will look like. 
"I am sorry to say that at this point, with the new variant from South Africa, we can't make any decisions about what we're going to do in the spring," said Henderson. "I can't make any commitments at this point."
The mandatory testing order expires at the end of the semester but masking is required through winterim. Masks are still up for discussion heading into the spring semester.
Positive cases increased in Walworth County and in Wisconsin and the variant only complicates the situation furthermore. However, the positive cases on campus have been "significantly" lower compared to the two, Henderson added.
Regardless, in-person classes are not likely to go away and enrollment is increasing compared to last year, offering positive signs for next year. 
On the list of concerns is the search for the next chancellor. The board of regents modified their rules for the search, allowing more representation from the campus.
"I will be talking to whoever is the new president selected for the UW-System in the spring about that selection process. I will strongly encourage that person to make sure there are representatives from the students, from the university staff, from the academic staff and the faculty," said Henderson. 
In the meantime, a lot of the focus is narrowed on enrollment strategies and the budget. The school recruited previous Vice Chancellor for Administrative Affairs Jeff Arnold to help with the budget.
"I have not been satisfied with the consistency of the number that I've asked for in terms of the financial position of the university, so the system has agreed to bring Jeff Arnold in to give us some help in looking at the budget so we know exactly where we stand," said Henderson.
Also recently welcomed to UW-W was Chief Marketing Officer Ann Stadler. This position hopes to tell the story of Whitewater, to appeal to new students, and prospective Chancellors.
Stadler will assume her position soon.
The search for vice chancellor of administration is still open. The search was paused because the committee did not feel the pool was sufficiently broad. With the help of contracted external search firm, Isaacson Miller, UW-W hopes to broaden the pool.
The government body got a chance to ask their own concerns to Henderson, among that was booster shots, the Higher Learning Commission self-study and strategic enrollment. "We're grateful for your presence tonight, and truly grateful for a chancellor that listens to our feedback and really cares," said Speaker of the Senate Justin Wesolek.