Send Silence Packing
Backpack display highlights suicide prevention
Over 1,000 backpacks lined the grass in front of the University Center, with each one representing all the young people who pass away due to suicide each year. Every one of the backpacks lying in the grass has their own personal story about an individual who took their life. Though some may see this display as grim, the goal is to show people that they're not alone with their struggle and there's support for them; whether that be in the form of this interactive display or the Active Minds members who were eager to assist.
UW-Whitewater's Active Minds chapter showcased a Send Silence Packing display last Thursday, Oct. 13 in front of the University Center. The event aims to give people a chance to speak out about mental health awareness and give a voice to those who might not reach out themselves.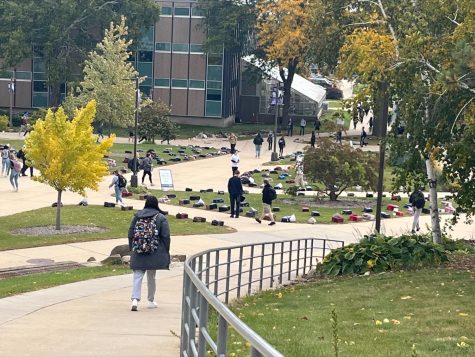 "The goal of the project is to let people know they're not alone when they struggle with thoughts of suicide and to get them help," said Active Minds member Mckenzie Jansen. Jansen is a member of the Active Minds chapter on the Whitewater campus.
The display aims for college-aged students to continue their story and reach out for help when needed. They believe there's more action to be taken to prevent suicide on college campuses.
"I think changing the conversation will be a good start, then providing resources or support and just being kinder in general," said staff member of Active Minds National Claire Bernhard while discussing whether or not there could be more being done to prevent suicide and get kids who need help the useful resources.
People may think of themselves as feebleminded or pathetic seeking out help for their mental health. However this isn't the case at all because in the end, it's the courageous and capable that make it through challenging times or in this case get someone to assist them in their journey to a better mental state. The display did a fantastic job of representing all the lost young souls.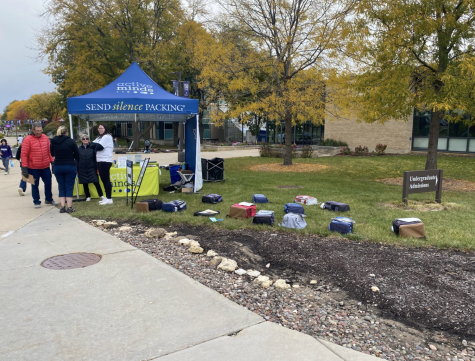 Showing off the aftermath of suicide is an intense way to spread mental health awareness so it seemed like there was truly only a few people up at the booth. But although there might not have been many stopping by the booths, all it takes is saving one person for the display to have achieved its intentions.
If you or someone you know needs support for your mental health, please contact the University Health and Counseling Services at 262-472-1300 or dial "988" for the Suicide Prevention Lifeline.