The 54 students in the Symphonic Wind Ensemble all returned to UW-Whitewater from New York empty handed. Not one had a medal draped around his or her neck, or so much as a certificate of achievement tucked away in a backpack. But that didn't matter. No one needed an award to validate what the group had accomplished.
After finishing a performance at Carnegie Hall fewer than 24 hours earlier, the students got off the bus in Whitewater with memories and experiences none would ever forget.
Director of the Symphonic Wind Ensemble, Glenn Hayes, Ph.D., said to the best of his knowledge, the group was the first Wisconsin college band ever to play at Carnegie Hall.
Senior trumpet player Brady Norton said he was happy just to be a part of something so unforgettable.
"It's one of the most amazing things I've ever done in my life," Norton said. "I'm incredibly thankful to the university, to Dr. Hayes and to my fellow musicians that I was able to do this."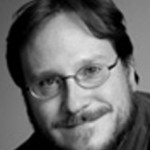 The ensemble performed four pieces, including one written specifically for the show by UW-Whitewater professor Christian Ellenwood, Ph.D.
Ellenwood said it was special to write an arrangement knowing the people who would be performing it and also the place where it would be played.
"They took everything that I wrote into the depths of their hearts and played it with such beauty and such love that I consider it one of the greatest gifts I've received," Ellenwood said. "It was just a thrilling and stunning experience overall."
Norton and sophomore Maggie Paucek are two students who took this long journey to Carnegie Hall, along with Hayes.
Each had his or her unique insight on the trip and the preparation leading up to it.
Glenn Hayes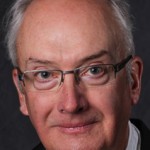 The first time the idea of the UW-Whitewater Symphonic Wind Ensemble playing at Carnegie Hall was brought up came in November 2005, Hayes said.
The ensemble had toured England the year before and performed at the Royal Northern College of Music. After the show, an invite was extended for the group to perform at the International Wind Band Festival the following year.
It was there that Hayes was approached about having the ensemble perform in the future as a feature showcase band at the New York Wind Band Festival and Carnegie Hall. Hayes said since that trip he had been asked twice about taking the ensemble to New York, but for one reason or another, it didn't work.
During the spring of 2011, Hayes was asked again, this time regarding 2012. Hayes agreed, but said how about 2013 instead
"In 2011, a lot of the group were first or second year students," Hayes said. "I knew they'd be matured as musicians by 2013, and I knew they'd be ready."
The students all put in tremendous efforts, but none of this would have been possible without Chancellor Telfer, SUFAC, Whitewater Student Government and the campus Greeks contributing, Hayes said.
"This was one of those situations where the campus understood what a huge honor this was," Hayes said.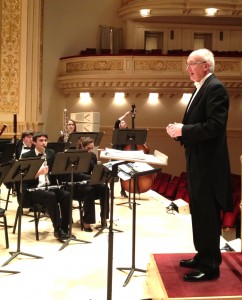 When Feb. 20 finally arrived, the night the group was scheduled to perform, Hayes said it was special for the students and a high water mark for the Symphonic Wind Ensemble.
"I was so, so proud of the students," Hayes said. "They played as well as any band could have played that night."
After the show, Hayes said he didn't believe anyone got to bed until around 1:30 a.m., and he was up even later, not able to fall asleep until at least 3 a.m.
"I was still just reliving things over and over," Hayes said. "The emotional intensity of the entire experience, I just had to let it work through, and the next day I told [the students] to go scatter across the city because they needed to decompress."
Throughout the journey, Hayes said he emphasized to the students in the ensemble that they needed to have the mindset of "this is just another stage," even though it was Carnegie Hall. The group, in turn, responded.
"It was a very demanding program, and the students just played it with such heart and soul," Hayes said. "They played more and more beautifully each piece.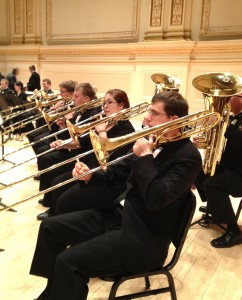 Maggie Paucek
The trip to New York was an exhausting one for Paucek, a music education major and clarinet player in the ensemble. Paucek said she only got maybe one to two hours of sleep on the whole 20-hour bus ride.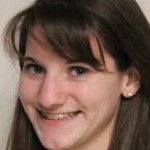 When they arrived, Paucek said she was not overwhelmed by New York because of a previous trip to Rome, but was still in awe of Carnegie Hall and the opportunity the ensemble had been given.
"It was thrilling to be there, that's for sure," Paucek said. "I wish we always could be here. It really was awesome."
Many students put in hundreds of hours of work to get ready for this trip, including Paucek.
The audition materials were very demanding and challenging, Paucek said, but it was all worth it in the end.
Paucek said it felt like they had reached the top, and it was incredible performing with these students. However, at the same time, there is much to look forward to in the future, she said.
"We have such a phenomenal group of young musicians," Paucek said. "I wouldn't be surprised if we got invited to something just as big sometime in future."
Brady Norton
As a senior, Norton has been playing trumpet in the Symphonic Wind Ensemble for three years, but said this school year was unlike any before.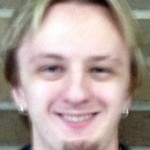 Usually, the group has auditions in each new semester, but this year everyone had to audition in the fall for the whole year because of the trip.
The ensemble has also been working on the same music since September in preparation of the Carnegie Hall performance.
Norton said he had never been to New York before and going was an incredible experience.
"Carnegie Hall is insane," Norton said. "For musicians, it's one of the best things we can ever do in our life."
The improvement of the students in the group was a testament to the amount of hours everyone put in, as well as Hayes mentorship, Norton said.
Hayes pushed the ensemble farther than he thought they could go Norton said, and inspired them to put on a performance at Carnegie Hall that was better than anyone could have asked for.
The favorite part of the performance for Norton occurred when the last chord struck. He said it produced a massive, powerful sound that family members in the audience told him shook the floors and the stage.
"It was an intense moment," Norton said. "Most of the ensemble was brought to tears after they stood up. It was very emotional."
When asked if this would be a big boost for students potentially interested in coming to UW-Whitewater, Norton said absolutely it was.
"They might be looking at UW-Madison or other places where they could get a similar education, but when they see that we've been to Carnegie Hall, that we've done all these things other universities don't get to do, it's a definitely a push for them to come here," Norton said.