UW-Whitewater alumna Lindsay Markos would go to church every Sunday with a beeper in her lap, praying it would go off.
Markos knew that when it did, it meant the Herma Heart Center of Children's Hospital in Wisconsin had found a compatible heart for her four-month-old daughter, Autumn, who had two congenital heart defects.
Lindsay said it would be very meaningful for the beeper to go off on a Sunday.
"So many important things have happened in our lives on a Sunday," Lindsay said.
It was on a Sunday when Markos and her husband Alan had their first child, Alexis. It was also on a Sunday when their second child, Aiden, was born.
And when the beeper went off at 11:42 a.m. on Feb. 3, 2013, marking a new beginning for Autumn, it was a Sunday.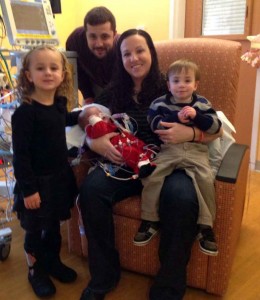 "We just knew that everything was going to be OK," Lindsay said.
The fight
Lindsay and Alan found out 26 weeks into their pregnancy that Autumn's heart wasn't developing correctly, and she might not even make it to delivery.
"That was probably the most overwhelming news, just hearing there's a 40 percent chance she wasn't going to make it to delivery," Lindsay said.
Doctors said Autumn's initial abnormality was Epstein's Anomally and Pulmonary Atresia, which Stuart Berger, medical director at the Children's Hospital told WISN Channel 12 is basically a problem with the right side of the heart.
Despite the odds, Autumn was born at 37 weeks on Oct. 1. Her first surgery was just eight days later. The months that followed would be filled with long days, tearful nights and many uncertainties at the Children's Hospital for the Markos family.
"We just tried to stay as positive as we could and take everything day by day," Lindsay said.
Lindsay and Alan wouldn't be able to hold their newborn child for days at a time, partly because her chest had to be left open due to swelling. A clotting disorder was one complication that made many of Autumn's initial surgeries unsuccessful.
After it was decided she would need a new heart, Autumn was moved to the top of the heart transplant list.
For two days short of three months, Lindsay and Alan carried around a beeper wherever they went, waiting to be notified of a compatible heart. When the beeper went off, the family hoped this seventh procedure would be Autumn's last before they could finally take her home.
A new heart
Autumn's transplant took eight hours and went very smoothly Lindsay said. The Markos family was able to take Autumn home for the first time five weeks after her transplant.
"Being able to wake up in the morning to all three of [our kids] is a blessing," Lindsay said.
At home, Autumn  is doing well, Lindsay said. Born at 5 pounds, 7 and a half ounces, Autumn is now 10 pounds at five months.
"The transplant team kept telling us, 'She's a normal baby now, you need to treat her like a normal baby,'" Lindsay said.
Normality is close for Autumn, who is currently on 16 medications so she does not reject her new heart.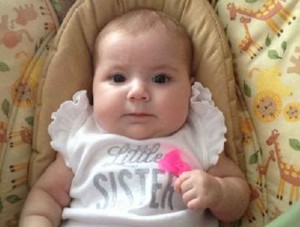 Lindsay said that after a year, the goal is for Autumn to only be on three of four medications.
Looking back at Autumn's struggle, Lindsay said she is grateful for the the advancements made in the medical field that helped save her daughter's life. Lindsay was told that 20 years ago, Autumn probably wouldn't have made it with her heart defects.
"We always knew how lucky we were," Lindsay said. "It just shows how severe her condition was."
There have only been eight cases similar to Autumn's in the Type D category. Autumn's old heart was taken to a medical college to further research her condition.
"It's good to know that we were kind of able to help with that," Lindsay said.
Warhawk family
After learning of the Markos family's situation, UW-Whitewater softball head coach Brenda Volk said she knew she had to reach out. Volk said she considers Lindsay, who was an outfielder on the softball team from 2005 to 2006, a lifetime Warhawk.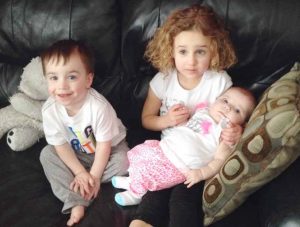 "Once a Warhawk, always a warhawk," Volk said. "She was an important part of this team and I wanted her to feel that support of the family that we try to create here at UW-Whitewater."
The team is currently fundraising for the family by holding a benefit at a local restaurant and selling T-shirts and bracelets. Senior Sarah Fisher, who is currently on the softball team and is also Lindsay's cousin, said the efforts the team has made to help a member of her family is heart-warming.
Lindsay said she can't explain how thankful the family is for the support.
"Just knowing that we have the support of Whitewater, it really means a lot," Lindsay said. "We are very, very grateful."