Support from family helps drive junior Makenna Parish-Day toward goals:
A late start to singing has not held back Makenna Parish-Day in the slightest.
A dancer from age 3, Parish-Day picked up singing around 6th grade and continued in middle school by participating in her school's choir program.
She continued singing in choir through high school and also participated in theater events.
Parish-Day credits her involvement in the arts as something that helped her through some difficult times.
"It made me happier, and it really got me through high school," Parish-Day said.
Now a junior at UW-Whitewater, Parish-Day is getting ready for her student recital at 3 p.m. on May 4 in Light Recital Hall.
Although she's a classical singer, Parish-Day said she pulls inspiration from Adele and Regina Spektor and said Adele, particularly, is a big idol of hers.
Parish-Day also credits her parents and family as inspirations.
"I rely on my parents being there and being supportive a lot," Parish-Day said.
Parish-Day isn't the only musically inclined member of her family.
Her sister attended Lawrence University and majored in vocal performance.
Mary Vey, a long-time friend and fellow vocal performance major, had nothing but nice things to say about Parish-Day.
"She enjoys what she does a lot, and she works hard," Vey said. "She's one of two altos we have in our voice performance department and has a very unique tone, which is really nice."
Parish-Day and Vey met at Plan-it Purple and were in the same learning community as freshmen.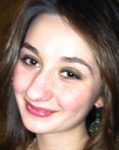 Vey said they've continued to be good friends through college.
The reputation of UW-W's music program is what drew Parish-Day to the school.
"I had heard that the program was good," Parish-Day said.
After contacting several voice faculty members, she auditioned and was accepted.
Brygida Bziukiewicz-Kulig, Parish-Day's private voice instructor, had great things to say about her student.
"She has a very beautiful, very unique voice," Bziukiewickz-Kulig said.
Parish-Day was assigned to Bziukiewicz-Kulig's studio two years ago, and Bziukiewicz-Kulig has tried to give her the kind of guidance she needs to excel in her craft.
Bziukiewicz-Kulig said she has high expectations for Parish-Day and expects excellence from her.
"She is exceptionally talented and has a very good stage presence," Bziukiewicz-Kulig said.