By Justin Woodard
As the Warhawks men's tennis season drew to a close on Sunday, the team eagerly awaits a bid into the National Collegiate Athletic Association Division-III Championship tournament.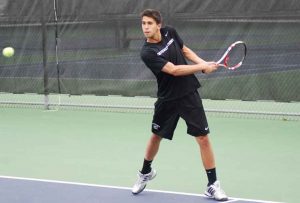 The 'Hawks, ranked No. 28 in the latest Intercollegiate Tennis Association Division-III national poll, concluded their regular season play with back-to-back wins against previously undefeated Coe College and Elmhurst College.
Last year, when the 'Hawks faced Coe, they were expected to win by a favorable margin, but Coe stole a 5-4 victory.
Andrew Bayliss was determined to avoid another upset.
"We kind of had a sour taste left in our mouth after that match last year, and we wanted to redeem ourselves," Bayliss said.  "Everybody on the team was just really focused, and we played smart and well."
Coe, ranked No. 9 in the ITA Central Region poll, endured their first loss in dual matches this year against the 'Hawks, ranked No. 5 in the ITA Central Region poll.
Senior Mitch Osborne was content with the outcome of Sunday's match.
"It was awesome to be able to get revenge for last season," he said.
"I know all the returners from last year were really looking forward to this match, because we wanted to turn the tables on them. It was a great team effort today."
After that, the 'Hawks played Elmhurst College, ranked No. 15 in the Central Region, who lost to Coe the previous day. Coming off of the Coe win that morning, Bayliss said the team used momentum to carry over against Elmhurst.
The 'Hawks' three seniors, Bayliss, Osborne, and Andy McGlashen, also were recognized Sunday.
All of the seniors transferred from different colleges after their freshman year and were immediately included in the lineup.
Head coach Frank Barnes spoke about the men during the ceremony, noting their superb talent.
Bayliss, Osborne and McGlashen have been major contributors for the 'Hawks each year they were on the team.
The 'Hawks are riding a twelve-match win streak and awaiting a berth in the NCAA D-III champion tournament.