Royal Purple Staff Goodbye: Zach Hicks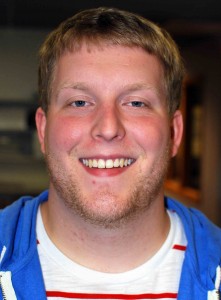 After two years on the Royal Purple's editorial staff, it's finally time to say goodbye. It's exciting to begin a new chapter as a young journalist, but my departure also comes with mixed emotions. I still remember my first section meeting as a sports writer, trying to inject my opinions into my first few stories and the disappointment I had when I saw that the printed version was different than what I'd submitted to my editor.
I've come a long way.
When I graduate in December, I'll take with me not only the experiences I've had through the Royal Purple, but also what I've learned from my writers and co-workers.
I'd like to thank Matt Gardner for being my first editor, both at the Royal Purple, while I was a staff writer and also at the Lake Mills Leader. I learned a lot from you, and thank you for being tough on me at times when I needed it but also giving me props when I'd do something right. I took a lot of pages out of your book while running the sports section this year—glad that was okay
Alex and Mike, it is great having friends who have similar goals and career aspirations. I enjoy bouncing ideas off you two and discussing jobs and internships.
Carley, even though you decided to copy my idea of being a journalist, I really will miss joking around in the office with you. From Spanish class in high school, to two years on the editorial staff of the Royal Purple, I'd say we turned out OK.
Andie, you are a great friend and do such an excellent job of balancing your friendships with our staff members and running our newspaper effectively. It's not an easy thing to do, but I have always admired how you handle it. I've learned so much from you and want to thank you for being so good at what you do. It's having people like you in the newsroom that trigger my competitive side and help drive me to dig deep and write an excellent article for our paper.
Kyle and Pete, as staff advisers, I've learned a lot from both of you. I hope to keep in touch.
Thanks to all of my friends not affiliated with the paper who have sat through my countless babbling about the sports section. Justin, Luke, John, Bo, Shepard, Anna, Alysha, Trent, Dane, Kari, Craig and everyone at the Visitor's Center—I know I'm annoying, so thanks for putting up with it.
Kevin, murmuring darkly in our apartment about sports never gets old. I hope to murmur darkly with you after college, too.
All of my staff writers, you have all worked so hard this year. I'm so proud to know you as young journalists and as people. Your passion will lead to your successes.
Thanks to the coaches and athletes I've covered during the past three years. One of the reasons I chose journalism was because of the connections you can make with people. I'd especially like to thank Tony Guinn, the head men's soccer coach. Thanks for trusting me to tell Shaymus' story and also for the three interviews we did. You are truly one of the nicest people I've ever been fortunate enough to know.
To the readers, thank you for the feedback—negative and positive. It's great to know that we have people passionate about UW-Whitewater athletics.
It was an excellent decision to "go for it" and join the Royal Purple. Although I am an English major, my experience at this paper has led to multiple internships and a wealth of knowledge of the inner workings of a newspaper. I encourage any freshman, sophomore or even upperclassman to join a campus organization if they don't feel happy with their college experience. It's never too late, and it's surprising how fast the time will go.
Until next time.