RP Men's Athlete of the Year: Smith eyes Olympic, coaching future
By Kevin Cunningham
He is not your average track and field athlete. He does not dominate one single event; he dominates two.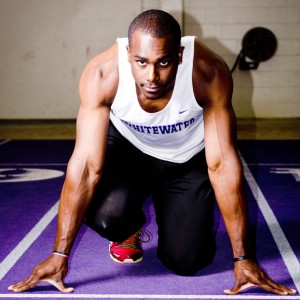 Senior standout Marcus Smith was named as the Royal Purple's Male Athlete of the Year this past week.
Smith has set multiple school records this year and will be competing in the NCAA Division III Outdoor Track and Field Championships on May 23 to 25.
The WIAC Outdoor Championships took place Saturday, May 4, where Smith continued his supremacy.
The school record holder in the triple jump won the event by jumping 51-7, just one week after his new school record of 52-11 was accomplished.
"Last week, when I jumped 52-11, I was in shock," Smith said. "I always told myself I wanted to jump 16 meters, but at the same time, to actually do it, was huge."
Smith's Saturday afternoon was not complete with one first-place finish.
A second dominating performance seemed necessary. After winning the 110-meter hurdles at the Drake Alternative with a time of 14.83, Smith ran a 14.61 in the finals of the WIAC Championships to secure first-place once again.
The illustrious collegiate career for Smith is nearly complete, and for jumps coach Eric Schueffner, nothing Smith accomplishes ever surprises him.
"I know what he is capable of," Schueffner said. "At any point in time, he can move ahead of his competition at margins that nobody can cover. He came to me at the beginning of the year saying that he wanted to jump 16 meters, and I told him that was well within his capabilities."
To put Smith's jump of 52-11 at the Drake Alternative in perspective, the top mark at last year's Outdoor National Championships was 51-02.25.
Smith's jump was more than 20 inches further than last year's national champion. Smith's jump on Saturday at the WIAC Championships of 51-7 was nearly five inches further than last year's national champion.
Smith's 52-11 ranks fourth in all of collegiate track and field, regardless of division. The top three spots are held by athletes at D-I programs. With the success that he has garnered, a professional career is not out of the question.
"I feel like all jumpers have an Olympic dream," Smith said. "I don't know if mine will ever come true, but if I can get better, I would love to be on that stage."
Before a potential Olympics appearance might occur, Smith plans on transferring to UW-La Crosse next year.
With all of his collegiate eligibility used up, he won't be able to compete for the Eagles, but he will be able to compete unattached.
There are athletes that continue competing post-collegiately, but have to pay their way toward competing in meets unaffiliated with a school.
Smith said he plans to continue training at UW-La Crosse next year, as well as helping out coaching, which is something the potential national champion hopes to do once his days of competing are complete.
"Next year while I train, I want to get a lot of coaching experience," Smith said. "I'm already certified for level one USATF coaching."
The 2013 Indoor All-America award winner also said his dream job is to become the head coach of the University of Oregon's track and field team.
"When it comes to track and field, Oregon is one of the premier spots where Olympic athletes come from," Smith said. "They have amazing training facilities, and overall it's my favorite school."
Despite the love for the Oregon Ducks, Smith was quick to reflect on his positive experiences here for the 'Hawks.
"I definitely wouldn't be in this position if it wasn't for my coaches," Smith said. "MJ [head coach Mike Johnson] is a father figure to me. He's taught me millions of things when it comes to hurdling, jumping and being a better person overall. When it comes to Schueffner, I've only known him for about a year now, but no matter what day or time, he's always been there for me."
For the Male Athlete of the Year award, the Royal Purple sports staff considered many athletes. Some of the names considered were Grant Sutter, Marty Herum, Jared Fon, Logan Fye, Ryan Wenkman and Quardell Young, among others.

Smith's selection was not based on one or two accomplishments, but an entire body of work.
With multiple school records set, and where first-place finishes became a norm, we are happy to congratulate Marcus Smith on an incredible season and historic career as a Warhawk track and field athlete.