By Andrea Sidlauskas
If this past weekend's matches are any indication of the upcoming season for the Warhawk women's tennis team, the players will definitely have something to celebrate.
The 'Hawks hosted Wheaton College this past Saturday and maintained their perfect record, sweeping the Thunder, 9-0.
"They're a tough team. They're probably the toughest we'll face this fall," senior Alexandra Bayliss said. "It was a good start to our season; we showed great team effort."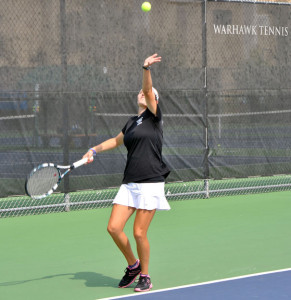 Bayliss defeated Sarah Ray at No. 1 singles, 7-5 and 6-4, and partnered with Jackie Vitale to conquer Ray and Julie Buursma at No. 1 doubles, 8-3. Both Ray and Burrsma ended the 2012-13 season ranked in the Intercollegiate Tennis Association Division-III Central Region.
The 'Hawks officially began play on Aug. 30 with their first 9-0 sweep of the year, this time overtaking Edgewood College in the season home opener. They continued their quest to conference supremacy Aug. 31, reigning over the eight-team invitational hosted at Wangerin Courts.
"In the preseason [the players] worked hard, and it's paid off so far," head coach Frank Barnes said.
Freshman Megan Humphreys proved to be a force to be reckoned with, earning UW-Whitewater athlete of the week for her achievement in singles competition during the invite.
"She is probably going to be in the lineup for every match, which is pretty impressive," Bayliss said about her teammate. "As a freshman, that doesn't happen very often."
Bayliss and Vitale were named athletes of the week in doubles competition for the second consecutive week after their stellar performances in both the invitational and the Wheaton matchup, and all three players were granted Wisconsin Intercollegiate Athletic Conference athletes of the week honors.
While Barnes preaches a "one week at a time" mentality to his players, Bayliss is confident in her teammates as they head into the season.
"Our main goal is to win conference again," Bayliss said. "We've won six years in a row now, so we're just trying to make it seven."
The 'Hawks will travel to Eau Claire this weekend as they look to uphold their perfect record.