Cross Country: Men take second, women fourth
By Justin Woodard
Despite finishing in second place at the UW-Whitewater Invite on Saturday, junior Dawson Miller ran the 11th-best time in school history at 26:12. Even though Miller finished in second place among the entire field of runners, he came in with the best time among runners who are still competing at the collegiate level.
Coach Jeff Miller was happy with the way both the men and women ran, finishing in second and fourth, respectively, as a team. Miller was especially proud of his son, Dawson, who bested all other Warhawks.
"In my mind, he won the race because he was the first collegiate student to finish,"  coach Miller said.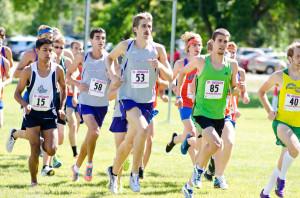 In the world of cross country, some participants who compete in races are not associated with any university and are known as unattached runners. Miller's time was only nine seconds behind unattached runner Cory Hayden.
While Miller was pleased with his performance, he knows the first few races are just a warm up for the Griak Invitational held in Minneapolis, Minn., on Sept. 28.
"The first few meets of the year aren't very important, but Griak is just as hard, if not harder, than our course, so I can run a little faster than this week."
Coach Miller said the top four on the men's side ran well on Saturday, along with sophomores Kent Miehe and Scott Wolter.
Junior Matthew Rudquist finished in fourth place with a time of 26:32 and senior Kevin Buntman came in 10th place with a time of 27:10. Sophomore Quinn Farley finished in 12th place with a time of 27:15, and Miehe came in 17th place with a time of 27:51.
"It feels really good. We really had some guys step up, and it is encouraging to see that," Buntman said. "We were able to run as a pack more, as well as pair off in the race and work with one another. So to see that is something we will need furthering this season. We definitely are an improved team, and that will continue to show as long as we stay healthy."
The women didn't finish quite as well as the men, but they still ran well at home on Saturday.
"On the women's side, there was not a lot of emphasis on first place," coach Miller said. "This meet was more about strategy. The women ran a little harder than we wanted them to."
The Warhawks had two women finish in the top 20, sophomore sisters Amy and Emily Kahl. Amy Kahl was the only Warhawk to crack the top 10 coming in eighth place with a time of 24:07, and Emily Kahl finished in 16th place with a time of 24:33.
Coach Miller was hoping the women would pace themselves a little better early on in the race so they could finish strong.
"I will work on not starting out my workouts too fast, so I have enough left towards the end to finish with a solid effort," Amy Kahl said. "This is what I need to work on during races."
While coach Miller and his runners wanted to perform well at their home course, they continued to emphasize the importance of the biggest meet of the year in the Griak Invitational.
The top 10 runners from both the men's and women's teams will sit out this coming Saturday's meet in Beloit, Wis. The next big meet for the top runners on each side is the Griak Invitational, which takes place on Saturday, Sept. 28, in Minneapolis, Minn.