Football: Behrendt throws six TDs, sets record
By Kevin Cunningham
Coming off what was arguably quarterback Matt Behrendt's most impressive start for the Warhawks against UW-La Crosse a week ago, it was going to be hard to replicate that kind of performance, much less top it.
Fast forward one week, and Behrendt did more than just top last week's performance.
Against UW-Stout on Saturday, the junior completed 21-of-30 passes for 353 yards and six touchdowns. The six touchdowns all came in the first three quarters of action, and Behrendt has yet to throw an interception in the first five games of the season.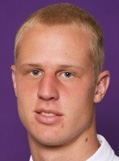 "We came in with a great game plan, and the offensive line blocked [well] all day," Behrendt said. "When we have wide receivers that can make plays like that, it's easy on me. When we see corners try and play us one-on-one on the outside, we take that as an insult."
The six touchdowns passing also marked a school record for UW-Whitewater in a single game, and junior wide receiver Jake Kumerow nearly set the school record for receiving yards in a game with 226 yards against the Blue Devils. The record for receiving yards in a game is held by Ashby Hibbs, who had a 249-yard performance against UW-Oshkosh in 1999.
Kumerow said he knew he was having a special game but was still mad at himself for dropping a hail mary in the end zone on the last play of the first half.
"I don't care about how many yards I had or how many touchdowns I had," Kumerow said. "To me, that was a drop. That will eat me for the rest of the week."
Head coach Lance Leipold was impressed with how the entire team played on both sides of the ball.
"[We took] a very positive step in getting to where we want to be," Leipold said. "We turned the ball over early in the game and gave up a few long passes, but other than that, we played some pretty good football today. The defense played excellent, and again we showed our explosiveness and our aggressiveness on offense."
For the second time this season, the Warhawks allowed a touchdown on the opponent's opening drive, but the initial score never rattled the 'Hawks' defense. After two field goals of 49 and 20 yards by senior kicker Eric Kindler, the team trailed the Blue Devils, 7-6, at the end of the first quarter.
Through the next 15 minutes of play, Behrendt would throw four touchdown passes, two to Kumerow, while sophomore Joe Worth and junior Justin Howard each caught one. The Warhawks' No. 1-ranked total defense coming into this week, according to ncaa.com, allowed two field goals in the final 45 minutes of the game.
Junior cornerback Marcus McLin was ready for the challenge of playing the Blue Devils' top receiver Trevor Morning one-on-one for the entirety of the game.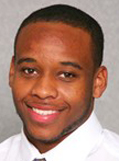 "After we gave up that touchdown, we had to clamp down and get three-and-outs," McLin said. "[Morning] was fast. We were talking throughout the game because there was a mutual respect. To compare him with Jake, there's no comparison there. I get to go up against the best receivers [in practice] so it makes the games easier for me."
The No. 10-ranked Warhawks, according to the latest d3football.com top-25 poll, continued their dominance in the second half, winning the final 30 minutes of play, 21-3. Behrendt added two more touchdowns to his résumé, one going to Kumerow for the third time in the game and the other to sophomore fullback Kyle Christensen.
Freshman running back Booker Ross saw extended playing time due to other running backs [Dennis Moore, Nick Patterson and Ryan Givens] being inactive or getting nicked-up during the game. Ross garnered 80 yards on 12 carries, while scoring from eight yards out in the fourth quarter.
Leipold said the offensive line played great, but was quick to acknowledge how special a day Behrendt had in his own right, saying that it was "awesome" that he achieved the school record for most passing touchdowns in a game.
"That's a heck of a deal for a young man," Leipold said. "I think every game he feels more confident in what he's doing. Matt has the ability to throw the ball because of him having a strong arm; he's mobile and can keep plays alive. I'm very pleased and am very happy for him."
Leipold also talked about Kumerow and how far he's come in his first three years at UW-Whitewater.
"In all my years, I don't know if I've seen a guy change his approach [as much as Kumerow has]," Leipold said. "His practice work ethic starting in the spring compared to a year ago, not that it was bad, but he really kicked it into another gear. He became a determined athlete. When that ball is in the air, he wants it to be his now."
The 'Hawks have a short week this week as the team stays at home to face the UW-Eau Claire Blugolds on Friday at 7 p.m. The Blugolds enter with a 0-5 record but have played a plethora of good teams to start the 2013 season.
The winless team is coming off a heartbreaking 23-17 overtime defeat to UW-Stevens Point in its homecoming game.