Men's and Women's Cross Country: Runners' youth shows at WIAC meet
By Justin St. Peter
In a year where the Warhawks men's and women's cross country teams are young and inexperienced, it showed at the WIAC Championships this past weekend. The men finished seventh out of nine teams, and the women finished eighth out of nine teams on Saturday at Kilkarney Hills Golf Course in River Falls, Wis.
Junior Dawson Miller was the first Warhawk on the men's side to cross the finish line in 23rd place with a time of 24:36. Senior Kevin Buntman had the next-best finish with a time of 26:20, which was good enough for 40th place and his season best.
Despite the back-of-the-pack finish, this team is young, and many runners will be back next season. Even though this season will be Buntman's last as a Warhawk, he had some good advice for his younger running mates.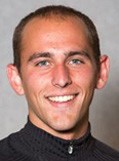 "Being a senior, you realize how fast it really goes by," Buntman said. "I hope they just take away the joy and excitement of the sport and atmosphere of a championship season. From a more technical aspect, I hope the young runners get a lot of experience mainly in the mental aspect of the conference."
Sophomore Quinn Farley also posted his season-best time at 26:46, coming in 46th place. Two other sophomores in Tony Urbanski and Ryan Maes also posted personal best times at 27:05 and 27:07, respectively.
Sophomore Kent Miehe set a personal-best time of 26:56, and was named to the WIAC All-Sportsmanship Team. Miehe is eager for his team to continue to improve for the future in order to stay competitive in the strong WIAC.
"This year we accepted the fact that our team wasn't as strong and used it as an excuse," Miehe said. "We need to use that as fuel for us to get better. If we can change that and have that mentality, everyone else better watch out."
Like the men's team, the women also were young and inexperienced this season. Junior Amanda Brom was the first Warhawk to finish for the women, coming in 35th place with a time of 23:31, a personal best.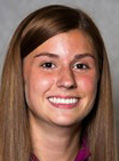 Sophomore Amy Kahl came in 41st place with a time of 23:55, and Junior Lauren Mosher was named to the WIAC All-Sportsmanship Team with her season best time of 25:15.
Although the team finished toward the back, Brom keeps a positive attitude going forward.
"I feel that next year the team will do better," Brom said. "Just because everyone will be stronger, and they will want to walk away with their heads held high. After going through this weekend, I believe people will want to do better."
The 'Hawks have one more race before the season comes to a close. The NCAA Division-III Midwest Regional will be held at Saukie Golf Course in Rock Island, Ill., on Nov. 16.