Honoring our heroes
By Michael Riley
Ryan Lonergan sat in his high school English class listening to his fellow classmates ask their teacher about college. For him, these questions seemed like a foreign language.  His teacher explained how she was working toward her masters, which cost her nearly $30,000 a year.
Lonergan looked in his pocket. He only had 5 dollars. His single mother, Colleen, raised him and his younger brother, McKinze.  Paying for college would be his responsibility.
Two weeks later, Wisconsin Army National Guard recruiters came to Watertown High School.  Lonergan said he remembered them telling him it was the hardest thing a person could do. He said he wanted to challenge himself while making his mother proud.
Today, Lonergan is a military veteran who served for six years. He is now a UW-Whitewater junior studying sociology with a minor in criminology.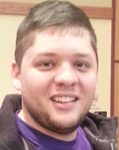 The recruiters' visit was not the first time  Lonergan considered enlisting in the the military.
"I was the type of kid that would wear camouflage everyday in elementary school and play army with my friends," Lonergan said.  "As I got older, I had the biggest collection of guns. It was like a Gander Mountain in my closest.  I always wanted to be a soldier."
Graduating high school in 2006, Lonergan was shipped to Fort Benning, located outside Colubus, Ga., for three months. He learned basic infantry skills, returned home and was assigned to various units across Wisconsin.
In early 2009, Lonergan was sent overseas and spent 10 months in the southern part of Iraq stationed at Camp Bucca.
He was a part of more than 700 missions, oversaw prisoners and worked in civil affairs, where he helped improve the quality of life in and around the base for the local Iraqis, including a building a water tower, Lonergan said.
Lonergan said during his six years as a soldier he transformed into something he always wanted to become.
"I wasn't the Ryan that graduated high school," Lonergan said. "I was a different Ryan. I was a soldier."
Reintegration into civilian life
Lonergan said looking back on his six years of service, he cannot believe how fast it went.
Transitioning from active duty to civilian life and college life has taken its toll on the 26-year-old veteran.
In October 2011, Lonergan was diagnosed with posttraumatic stress disorder, a condition that develops after a person is exposed to traumatic events. Lonergan said it is hard for him to focus and communicate because of the condition.
Graduate student Nicole Bengston serves as a counselor and resource in the Veterans and Service Members Lounge and said the process of returning service men and women is not easy because every individual is different.
"In the military, you are told to something and you need to do it," Lonergan said.  "In college, I see a lot of laziness and complacency.  It is hard for me to maintain my individuality when I see people doing the bare minimum."
Lonergan said that he has to keep in mind that not everyone he encounters is a veteran.  He said he could talk to someone about the military for a week and explains everything he knows, but in the end there still will be questions.
"Everything I have done and continue to do requires me to explain myself," Lonergan said.  "It is not a burden, but it makes me think before I speak."
He said all veterans struggle with transitioning, and there are multiple resources to help cope with the transition, especially for student veterans.
One of the resourses is the Veterans Service Organization. Coordinator Jan Nordin helps veterans select classes and make sure they have the proper paper work filed.
In the Veteran's lounge in the library, men and women are welcome to relax amongst former service members with years of experience.
"Even though most of us never deployed with each other, we all hangout like a big family," Lonergan said.  "We all look out for each other.  We are like brothers from different mothers."
Veteran's Remembrance Ceremony
Lonergan attended the ceremony to honor local veterans on Nov. 11 which was highlighted by gun salute and a performance by the First Brigade Band.
The student speaker and veteran, Ryan Hale, won a Purple Heart in 2011 after being injured in Afghanistan in a vehicle explosion.  Hale said he was proud of the oath that he took to serve his country.
"We did what we did and do what we do for you and our families," Hale said.
Each speaker honored and recognized all soldiers in time or war and peace.
Chancellor Richard Telfer said currently more than 320 veterans or family members are enrolled at UW-Whitewater.  He said the university will remain committed to veterans because they have always been committed to citizens.
UW-Whitewater allows veterans priority registration and for five years has won the Military Friendly School designation by GI Jobs magazine.  This is awarded to the top 15 percent of colleges and universities who do the most for America's student veterans.