Nov. 20, 2013
By Kevin Cunningham
She may not lead the volleyball team in kills, blocks or digs, but as the team's designated setter, junior Kim Frei is the leader in assists, totaling more than 1,400 during the course of the 2013 season.
Currently at the sixth spot in the UW-Whitewater history books for career assists, if Frei records another 1,400 next season, she will finish her career with more than 4,300 assists, good for second all time.
From a football perspective, the setter in volleyball is the team's quarterback. Once receiving the opposing team's serve, the Warhawks often look to Frei, who will set up one of the hitters for the kill.
"We all balance each other out really well," Frei said. "I think that shows when we play. I'm playing with some of the best athletes in the country, which is really cool that I have the opportunity to do that."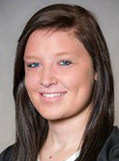 Junior middle blocker Kristen Ruchti said Frei is second-to-none when it comes to her overall talent on the court.
"It's great to have a setter that can literally set any kind of ball to anybody," Ruchti said. "She has great hands on the court, has a great work ethic and is always hustling. She's the best setter I've ever played with."
2013 Season
The 2013 season concluded on Thursday as the 'Hawks took on the Washington-University St. Louis Bears in the first round of the NCAA Tournament. The team fell short to the Bears in three close sets (25-23, 25-23, 25-22).
The match on Thursday night was not the first time the team had faced the Bears, as on Oct. 11, the two teams squared off on a night that was set in honor of former Warhawk Lisa Panici.
"That night was amazing," Frei said. "It was such an honor to play for her and have every sports team come out [and watch us play]."
Frei said the team had battled through a lot during the season, so the first-round exit in the NCAA Tournament shouldn't be looked at as a disappointment.
"We had a lot of injuries and adversity to overcome," Frei said. "Our All-American outside hitter got a broken ankle, and we had a lot of other different issues going on."
Character
Frei's high school coach her senior year, Alex Uhan, now the assistant coach at Concordia University, was quick to praise the dominant setter he coached for only one season.
"The first time I saw her was during an open gym where I couldn't coach yet," Uhan said. "Just the natural instinct to take over and be able to lead the younger kids was really neat to see. With a 17-or 18-year-old senior, you don't know what to expect. She showed true leadership that first time I saw her."
Uhan also talked about how intense Frei was on the court, saying that she was a winner and a gamer during every point. She was the one who could set the tone for the rest of the team, whether it was vocally or through leading by example.
On a personal level, the 5-foot-8-inch setter from West Bend makes a lasting, positive impression on her peers.
"She's a really lovely person who's always happy," Ruchti said. "In Costa Rica, which is the first time I met the team and Kim, she made me feel very included in the team. She was great at just letting me in."
High School Excellence
In only one season of coaching Frei, Uhan has multiple stories of how his leader on the court impressed him game in and game out.
"We were underdogs going into that senior season, and we hadn't won a conference championship since 1999," Uhan said. "We were playing for the conference title. We had lost the first and second sets of the match, and I had received my first and only yellow card fighting for my players on a terrible call. In that timeout, you could see her determination, saying 'Hey, I got this one. We're going to get this.' I knew right there that I had a special someone on the court."
The team won the third, fourth and fifth sets of that match, giving them their first conference title in 10 years. Uhan said it was great to get the banner, but it was sad knowing that Frei would be leaving at the end of that season.
Uhan also talked about her recruiting process and how, as he acknowledged, the best setter he's ever coached ended up deciding to attend UW-Whitewater.
"I sent a lot of emails out and got a few Division-II offer looks," Uhan said. "I told UW-Whitewater that we had a great setter here and you need to come out and watch her. They came out six or seven times during her senior year, and this was during their season at the same time. I had a hand in making sure they saw her, but it was really up to UW-Whitewater as well, coming out and taking a look at her."
Since winning the conference championship at West Bend West High School, Frei has done more than just acquire thousands of assists. She also led the team in aces and was named to the All-WIAC team this season.
"It was good to see that all my hard work finally paid off, and getting recognized for that was pretty cool," Frei said.
She also talked about how much the coaches from both her past and present have helped mold her into the kind of person and player she is today.
"Before I came to UW-Whitewater, I was kind of a hot-head on the court," Frei said. "[Uhan] helped me simmer down sometimes during games. He really pushed me, motivated me and was a great encourager. He was one of the better coaches I have had."
'Hawks' associate head coach Ben Staupe also has given guidance to the All-WIAC honoree.
"He's my setting coach and we have practices before the team," Frei said. "He critiques me and does not let me get away with anything. It's great. Outside of the court I could go to him for advice or for anything. He's like a second dad away from home."
The Goal
The captain and All-State award winner back in high school said she knows she has one year left of playing volleyball and wants not only herself, but the entire team to make it count.
"I have one more year to get a national championship, so I'm going to do whatever I need to do to get my team on board, and we're going to work hard this season to be prepared for that."