Nov. 20, 2013
By Michael Riley
Junior Matthew Buskirk was working on a self-portrait for one of his art classes on Nov. 8 while watching NBC Nightly News with Brian Williams when he began watching a personally disturbing broadcast.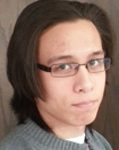 He watched Typhoon Haiyan's 195 mph winds snapping trees and rains flooding the entire nation of the Philippines -— a place much of his family calls home. The natural disaster tore through the Philippines destroying about 500,000 homes, displacing 3 million people and affecting nearly 9.8 million people, according to the United Nations.
The broadcast left Buskirk with a combination of hopelessness and broken pride.  Buskirk's father was a Marine and met his mother while stationed in the Philippines before they married, moved and settled in Fort Atkinson.
"I had an identity crisis," Buskirk said. "I didn't understand what was going on, but I didn't know how to react either."
Buskirk's Aunt Carmen and family live in Ramon, Isabela, a small province in the island of Luzon. To earn a living, they harvest rice from their fields. The  phone is their only form of communication and has remained available for the relatives, who have a Vonage phone plan.
Despite the large scale of destruction, Buskirk said thankfully they were not as affected as severely as the majority of the more central islands, but their fields have been flooded, drastically impacting their source of income.
Buskirk said the way of life in the Philippines compared to America is night and day.  His family already did not have much, and now with floods, their situation is only becoming worse. Buskirk said his four younger cousins have very little and anything can help.
"My mom and I have been sending money, but if we can send anything, we send pens and pencils," he said.  "The littlest one, Rosemary, always takes pencils from the oldest, Raymond. They will fight over the simplest things."
Buskirk's mother has been talking to their family overseas nonstop since the disaster, and has not been back to the Philippines in 29 years.  He said she always encourages him to still have pride in their nation.
Qian Qian, a graduate student from China, said she heard about the seriousness of the disaster from her mother.
"Wisconsin is a safe place to live, and many people do not live in fear of natural disasters," Qian said. "The recent tornadoes in Illinois put it in perspective, and hopefully people will donate to more natural disasters."
Buskirk said he plans to raise money for the relief effort in December.
"I want to figure out a way to help," Buskirk said.  "I have to use what I can, and all I know is what I have learned as an art major.  I can make a T-shirt, and every little bit can help."
His goal is to raise more than $500.
International Student Organization will arrange a relief effort for the people who have suffered from the disaster.
President Lobsang Dorjee said the group plans on organizing a clothing and food drive and donations. They will place collection boxes in the University Center, Hyland Hall and Center for Global Education.  Dorjee said any help from students or other organiztions would be welcomed and appreciated.
"In 2011, Japan was affected by an earthquake and a typhoon," Dorjee said. "We raised about $1500 for that effort and we hope to raise more than that for the Philippines."
If students would like to donate resources, CharityNavigator.org and Guidestar.org provide a variety of charities to donate money to the relief effort.