Plenty to see at Light Recital Hall in January
Jan. 22, 2014
By Abrielle Backhaus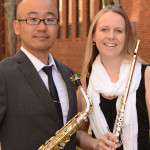 Awea Duo
Musicians:Jennifer Brimson Cooper, flute; and Mas Sugihara, saxophone.
How did the group start:
We both went to Moorhead State University in Kentucky. Moorhead is actually a town with a population of 7,000 people, so it's a very tiny, tiny place. So it is difficult to find another musician of the same caliber or same level to form more traditional form of chamber music. It kind of came out of necessity.
Music played:
You know chamber music is kind of very intimate, and you can work on really small details and can really dig deep into the music, so that's why we really love playing with each other, and I think we are very musically and personally compatible.
Signature sound:
We really try to work on the blend between two instruments because saxophone and flute are two very different instruments.We try to match the tone so that it almost sounds like it's one instrument playing.
We hope to teach UWW students:
We are both college professors, and part of our mission is to not only perform, but to teach.
Performance will be: 7:30 p.m. on Jan. 24 in Light Recital Hall.
Sweet Talk
Musicians: Jake Henry, trumpet; Dustin Carlson, guitar; and Devin Drobka, drums
How did the group start:
Well, I met Dustin, the guitar player, at the amp workshop in Alberta Canada in the summer of 2010, so we knew right away that we liked to play together, and we were sort of on the same page for a lot of things. I went to New York and got a master's degree and started a band with Dustin and was doing that for a bit and then met Devin in the summer of 2011.
Music played:
Jazz music, it's art, it's a style of music. It draws from a lot in addition to jazz. It draws from rock and metal and we think it's a very visceral kind of experience.
Signature sound:
The music uses a lot of functional harmony and noise elements and rhythmic complexity.
We hope to teach UWW students:
A lot of college students today are into a lot of different things, and hopefully we showcase that.
Performance will be: 7:30 p.m. on Jan. 30 in Light Recital Hall.
Due East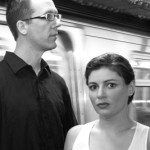 Musicians: Erin Lesser, flute; Greg Beyer, percussion; joined by Trevor Saint, Andrew Baldwin, Dominic Gischia and Max Astell
How did the group start: The flutist and I performed very well together, we took the entire body of repertoire and continued to perform together. In New York City, we met Whitewater professor Jeff Herriott. This is going to be the third collaboration that we have done with Jeff Herriott who is a fantastic composer.
Music played: We are a contemporary classic duo.
Signature sound: We enjoy collaborations with contemporary music composers. Depending on whom we are working with and what their style is about, we aim to achieve to realize their voice.
We hope to teach UWW students: We strive for musical excellence, and in the process of striving for excellence on a daily basis, you transform yourself and you transform hopefully the audience.
Performance will be: 7:30 p.m. on Jan. 24 in Light Recital Hall with the UW-Whitewater percussion quartet.