Career fair connects students, companies
Feb. 12, 2014
By Katie Kane
By Alexandria Zamecnik
More than 500 students attended the Multi-Cultural Career Fair on Feb. 5. The turnout was the best that the College of Business and Education has seen in years.
The fair gave students the opportunity to visit company booths and speak with representatives, Freda Briscoe, director of the multicultural business programs said.
"This fair is not just for multi-cultural students," Briscoe said. "This is a campus-wide event, and we want all students to know that they are welcome. "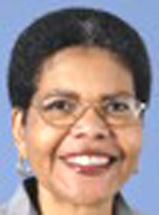 The university holds two career fairs ever year. Each of the fairs attracts a multitude of interested businesses.
More than 50 companies attended the fair such as Target, Walgreens, Kohl's and MillerCoors.
"It is so important for students to be comfortable with themselves," said Eileen Williamson, national recruiter from INROADS. "Students should come prepared with a good introduction and their head up high."
Junior Ravi Rajani, who majors in finance, has been coming to career fairs since he was a freshman and encourages all students to attend as many career fairs as they can during their time here at Whitewater as they can.
"I came to these fairs freshman year to build relationships with the companies," Rajani said. "Now that I'm an upperclassmen, I feel I have an advantage here."
Many freshmen do not attend career fairs as they are just getting started and may not have as much experience or an impressive resume.  Rajani said that it doesn't hurt for students to attend these fairs.
Senior Annie Volther, who studies computer science also has been to multiple career fairs.
"All the fairs are very similar and a lot of the same companies come to both of them," Volther said. "I feel they were both very beneficial to me. The [representatives] are all very helpful.  This can be a very intimidating thing for some students, but it is very worth it."
Students are encouraged to begin the career fair process early and to get involved.  Building relationships with companies can be a significant advantage to those looking for employment or internships.