Feb. 19
By Christopher Clapper
The UW-Whitewater wrestling team ended its conference season the same way it started, on top.
The No. 2-ranked Warhawks went into the WIAC tournament as the top seed and defeated UW-La Crosse in the final match to secure their third-straight WIAC championship.
Head coach Tim Fader also won WIAC Coach of the Year for the first time in his tenure at UW-Whitewater.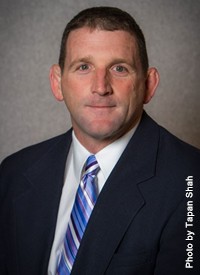 "It was an exciting day all the way around," Fader said. "It was nice to receive an honor like that, and it was nice to hear. The other coaches in the league would recognize that, and I guess I'm just more proud of the way our guys wrestled yesterday than anything."
While Fader was busy giving all the credit to his wrestlers, they were giving all the credit back to him.
"He's a great coach, one of the best coaches I've ever had for any sport," senior 165-pounder Cedric Gibson said. "He's definitely one of the best coaches in the nation, and hopefully we get the national championship and he wins national coach of the year."
The Warhawks had a first-round bye but opened the semifinal round against UW-Stevens Point, who they beat 38-9, winning eight of 10 matches.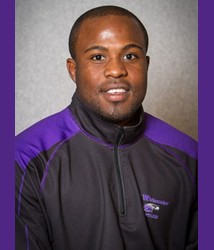 Recording pins for the Warhawks were No. 5-ranked 133-pounder Jimmy Nehls, No. 9-ranked 149-pounder Elroy Perkin, No. 4-ranked 165-pounder Gibson, and No. 5-ranked 285-pounder Anthony Edgren.
With UW- La Crosse winning its semifinal match on the other side of the bracket against UW-Oshkosh, 37-8, the championship match was set between familiar foes UW-Whitewater and UW-La Crosse.
The two teams met earlier in the season with the Warhawks getting the better of the Eagles, 27-7.
The match opened with four straight victories by the Warhawks with 125-pounder Zac Denny earning a 7-3 decision against the Eagles' Ryan Weinmann.
The Warhawks had an early 16-0 advantage, but UW-La Crosse won the 157-pound match, 8-4.
UW-Whitewater came back to win the next four to finish off the night.
A pin by Gibson in the 165-pound match followed by a 3-1 decision in the 174-pound match, and two straight technical falls by Ryan Aprahamian and Shane Siefert statistically put the match away for the Warhawks, winning 35-9.
The wrestlers will compete for a spot in the NCAA Division-III National Tournament on March 1 at the super regionals in Crawfordsville, Ind.