Men/Women Wheelchair Basketball: Warhawks confident heading into March
Feb. 26, 2014
By Ryan Altman
The Warhawks men's and women's wheelchair basketball teams wrapped up their regular seasons last weekend in Tuscaloosa, Ala., combining for six victories, ahead of the upcoming National Intercollegiate Wheelchair Basketball Tournament.
This tournament had major NIWBT implications for both teams. If the men were victorious against the University of Texas at Arlington, it would give the 'Hawks the No. 1 seed. The women's team entered the tournament undefeated and would need a victory against the University of Alabama to claim the top spot.
Men
Despite senior Jake Williams' triple-double (21 points, 10 rebounds, 10 assists) and freshman Dylan Fischbach's 29 points, the 'Hawks fell in their opener, 79-69, to the University of Texas at Arlington. With the loss, the 'Hawks will receive the No. 2 seed for the NIWBT.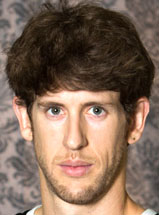 "The tournament was very challenging because you had teams who wanted to prove they could beat us and teams that wanted to prove they were not beatable," senior Shai Ron said.
Williams (27 points), Fischbach (25 points) and Derrick Bisnett (14 points) combined for 66 of the team's 82 points in the 'Hawks first victory on Friday, defeating the University of Alabama, 82-45. Bisnett also recorded a double-double, grabbing 16 rebounds.
On Feb. 22, the 'Hawks went two-for-two, with victories against the University of Missouri and the University of Illinois.
Two points decided the last game between the 'Hawks and Tigers, but this time that wasn't the case. The 'Hawks buried the Tigers, 70-55, behind Williams' 26 points and Bisnett's 20. Bisnett grabbed 12 rebounds as well.
The 'Hawks overcame a nine-point first-half deficit to defeat the Fighting Illini, 76-68. Williams (29), Fischbach (18), Bisnett (12) and senior Ben Kenyon (13) all reached double-figure point totals for the 'Hawks.
Fischbach and Kenyon recorded double-doubles, each contributing 10 assists.
Women
The women's squad outscored the University of Illinois, 38-21, in the first half and cruised to a 65-45 victory. Senior Becca Murray led the 'Hawks with 20 points, followed by graduate students Mareike Adermann (16), Desiree Miller (13) and sophomore Mariska Beijer (14).
The same four players scored in double figures again as the 'Hawks clinched the No. 1 seed in the NIWBT, defeating the University of Alabama, 82-63. Adermann led the team with 25 points and a game-high 17 rebounds.
The team was scheduled to play two games on Feb. 22, but bad weather prevented the University of Arizona from competing.
The 'Hawks played just once on Saturday against the University of Texas at Arlington. The 'Hawks prevailed with a 57-46 victory against the Mavericks. Beijer and junior Jill Host both scored a team-high 16 points.
Heading into March's national tournament, the team is not lacking confidence.
"We are very confident right now," senior Lydia Sprain said. "We have some of the best players in the world offensively and defensively."