March 12, 2014
By Christopher Clapper
Cedric Gibson is used to being humbled. He has become close acquaintances with obstacles, roadblocks and naysayers.
His high school wrestling career showed great promise, followed by great disappointment.  His college wrestling career was the exact opposite.
Missed opportunities define a career that could have been derailed if not for a strong support staff and a drive not found in most people.
A week away from his second consecutive trip to the NCAA Division-III national tournament, Gibson said he needs no extra motivation to prepare himself.
"My goal is to be the national champ, and, especially it being my senior year, it'd be nice to go out like that," he said.
Plainfield North was a brand new high school and Gibson set the bar high athletically for the entire student body.
He was the first male athlete to qualify for the state tournament in any sport, and he was only a junior.
His senior year however, he hit his first major obstacle.
"My senior year I was ranked like fifth all year, and I choked in the first round of my sectional tournament and was bumped out," he said.
Soon after that, colleges came recruiting and UW-Whitewater wrestling head coach Tim Fader was impressed with what he saw.
"He was kind of a beginner wrestler, but he had just a really strong work ethic and picked things up really fast," Fader said. "He was really interested in learning, and he was coachable, which you could tell right away."
After getting a few semesters of college wrestling under his belt, a second obstacle would be thrown in front of him, again testing his mettle.
"I attended here [UW-Whitewater] for three semesters, and then I had to go back home for three semesters because I got academically dismissed," Gibson said.
He turned back to Illinois and went to a community college for three semesters, working 40 hours per week, going to school full-time and continuing to work out, all with one goal in mind.
"Even when people were doubting me, and I had a lot of people doubting me, I had it in my mind as soon as I left that I was going to be back," he said. "I had to be back."
Many athletes lose that drive when they leave competition; they feel sorry for themselves and quit.
For Gibson, that was never even a thought, and during the next few semesters, he would push himself physically and mentally harder than ever before.
"When he came back, he was just changed," Fader said. "He had better time management, he was more mature, and on the wrestling mat he was really strong and picking things up really fast and making big gains."
It was as if he had never left. He reeled off long win streaks that signaled the start of something big to come. His junior year, it happened.
Going into the 2013 regional tournament, which decides who qualifies for nationals, Gibson was seeded third. He had not even wrestled the first half of the semester because he was not taking a full course load, making him academically ineligibile.
After a bye and winning his first two matches, Gibson quickly found himself in the finals, nothing but an upset in the championship would suffice. He eventually came out with a 3-1 victory and a regional championship.
The good times kept coming for Gibson after placing third in the national tournament and achieving All-American honors last year.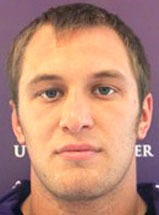 He has everyone else around him believing in him, too, including assistant wrestling coach Cade Sarbacker.
"He is motivated, he has his priorities straight, not only in wrestling but in life and I think by the end of this year he's going to achieve his goal and finish on top, national champ," Sarbacker said.
National champion: those are two words that not many people would have used to describe Gibson not long ago.  After overcoming adversity of all kinds, not much phases him now. His determination will not allow him to become distracted, and his personality won't allow him to be intimidated.
All that's left to do is capture what has been so elusive to him for four long years.