Wrestling: Warhawks finish as runner-up
March 19, 2014
By Christopher Clapper
The UW-Whitewater wrestling team has taken its game to new heights in recent years, and last weekend's NCAA national tournament provided the cherry on top.
With two individual runner-ups, three fifth-place finishers and a second-place overall team score, the team recorded the best finish in program history.
Sophomore 133-pounder Jimmy Nehls completed his season with a fifth-place finish after winning his first match, 5-1.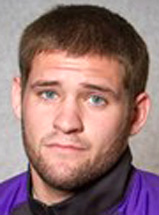 "I think overall I did pretty well, but I definitely wanted to finish on top," Nehls said. "I had a couple rough matches, but I'm pretty happy with the way it went overall."
The Warhawks had three wrestlers place fifth with returning national qualifiers Cedric Gibson and Elroy Perkin each claiming the title of All-American, along with Nehls.
Being only a sophomore, Nehls already is looking toward next season.
"I'm going to take a few weeks off and let my body recoup a little but get right back at it in about a month with a lot of offseason training and extra workouts," he said. "[I'm] doing as much as I can to finish on top next year."
The two wrestlers closest to finishing on top this year were sophomores Shane Siefert and Matt Adcock.
Both wrestlers made it to the finals but ended up losing close matches to end their seasons.
Beginning the tournament as the sixth-seeded wrestler, Adcock had to fight his way into the finals where he matched up with Messiah College's Kaleb Loht, who had an impressive 37-0 record against Division-III opponents this season.
The final score ended 6-3, and Adcock would finish his season with a 26-9 record.
"He (Adcock) really has a great path now; he is definitely someone to keep an eye on," head coach Tim Fader said. "A lot of the other coaches were surprised at how tough he was and how difficult he is to score on."
Seifert, on the other hand, went into the tournament as the No. 2 seed with the team lead in pins as well the most technical falls in D-III.
Facing the No. 1-seeded wrestler Alex Coolidge of Cornell, Siefert began the match with a quick takedown but eventually fell in heartbreaking fashion, 6-5, and a second-place finish.
"He was literally 30 seconds away from being a national champion, but that's why we love wrestling; you have to wrestle the entire seven minutes," said Fader.
While second place was not what Siefert was hoping for going into the tournament individually, the second-place finish by the team was the best in program history.
Five of the six this year who qualified captured All-American honors, and the only one that didn't, heavyweight Anthony Edgren, already obtained that distinction last year.
Wartburg College captured the team title with 103.5 points, followed by UW-Whitewater with 67 and Messiah College with 64.