2014 WSG Election Central
March 18, 2014
By Vesna Brajkovic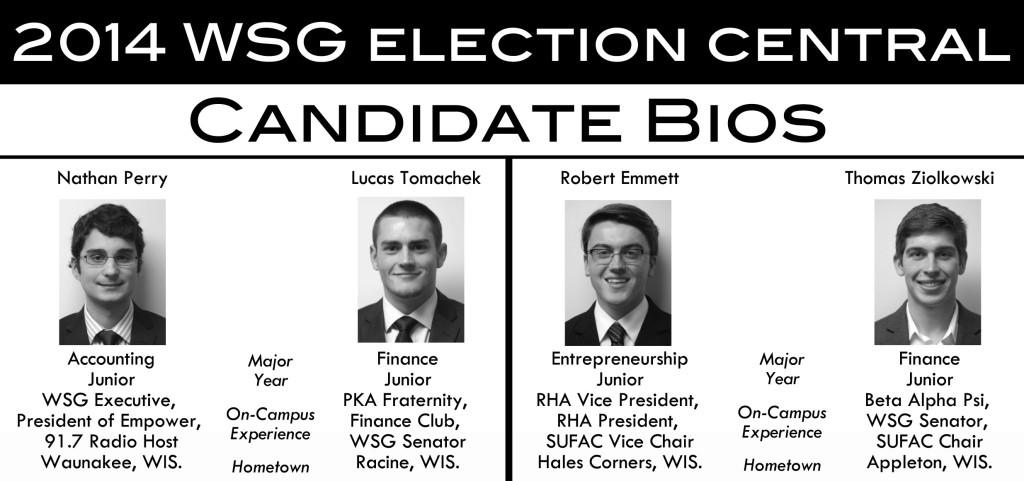 Candidates vying for the positions of Whitewater Student Government president and vice president sat down with the Royal Purple to answer questions about why they are running.
Royal Purple: There's a big population of commuters on campus is there anything you plan on doing that will specifically benefit this population?
Nathan Perry and Lucas Tomachek: We plan to work on a marketing campaign directed towards students that commute so that they are aware of all of the rescources, opportunities and activities that are offered on campus.
Robert Emmett and Thomas Ziokowski: We recognize and appreciate the unique blend of students that we have at UW-Whitewater. One of the big needs for commuting students is accessible parking. We understand that there are certain meters, such as the ones located on Prairie Street, that really make no sense and place an additional burden on students driving in and trying to find a place to park. On the same note, we don't want students to have to run out during a class to plug a meter. It just doesn't seem fair.
RP: What's your first plan of action for presidency and the steps you plan to take to make it successful?
Perry/Tomachek: Our first plan of action is to do a review of the GenEd courses, and to solve any problems that arise from review of the courses.
Emmett/Ziokowski: My first plan of action is to add the Connection Student Council to the list of external committees. Having WSG reliably at those meetings will be a big step in enhancing our relationship with student organizations. We plan to be more engaging with our senators and all students in an effort to have increased attendance at regular meetings.
RP: What are your time commitments for next year?
Perry/Tomachek: Luke will continue working at the Williams Center weight room as well as continue to be an active member of the Pi Kappa Alpha fraternity. The rest of his time will be devoted to running this position. Nathan plans on staying involved with Empower as well as Co-hosting a specialty show on 91.7 The Edge and plans to devote most of his free time to Whitewater Student Government.
Emmett/Ziokowski: While it is not finalized, I plan on enrolling in 15 credit hours of class. I have owned and operated an auto detailing business in the Metro-Milwaukee area for the past eight years, so that is something that will require some of my time and efforts.
RP: You can't please everyone, so how would you respond if a decision you made didn't go over well with students?
Perry/Tomachek: We plan to look at every aspect of every decision from all viewpoints and make a decision that most students would support.
Emmett/Ziokowski: We would have to own up to the misstep. While everything we do is to benefit students, we realize that not all ideas will work, and we feel that an honest response to a failed idea has greater integrity than making excuses.
RP: How will you enforce your efforts of increased sustainability? How will it be different than now?
Perry/Tomachek: One way we plan to increase sustainability on campus is to have more water refilling stations on campus, so that there are less onetime use bottles being used on campus.
Emmett/Ziokowski: We would need to be vocal, when appropriate, when interacting with faculty by asking them what steps they are taking to be greener. We would take some in-house measures too; we see that WSG could be doing back-to-back printing, rather than using more paper.
RP: Do you think it's important to be involved in various organizations while being involved in student government or devote your focus entirely on the student government? Why?
Perry/Tomachek: We think that to be entirely focused on student government means that you need to be involved in other organizations on campus.
Emmett/Ziokowski: We believe that balance is important for student success. If the President were solely focused on student government, while the Vice President were involved in student government as well as other organizations, then the officers would have a good working balance that would fairly represent the student voice.
RP: If any of your goals start to take longer, or require more work than originally planned, how will you deal with this?
Perry/Tomachek: We are strong believers in working smarter not harder. We will continue to pursue the goal that is taking more time than we thought. We would make sure that we hold all parties involved with the goal responsible.
Emmett/Ziokowski: As we stand currently, we know that some of our goals are long term. We realize that large-scale change cannot happen overnight. However, we would continue to work just as hard in order to ensure enhanced student benefit for years to come.
RP: What is something that the previous presidency enacted that you hope to continue, build upon, or change?
Perry/Tomachek: We think they did a great job with sustainability on campus, and we hope further their successes in making Whitewater a greener campus.
Emmett/Ziokowski: We're thoroughly impressed with the current administration's friendliness when interacting both in and out of WSG happenings. We are also pleased with the vision that President Murphy and vice president Waldhuetter had by creating the Sustainability Specialist position. We plan to utilize and publicize the work of this position even more in the next school year.
RP: Did the run-in with disqualification change your perception of the WSG?
Perry/Tomachek: The disqualification was a hiccup. It was an issue we wish never happened, but it was dealt with in the best ways possible. We are thankful for the opportunity they have given us.
Emmett/Ziokowski: It did not change our perception of WSG. However, we were surprised by the decision. We have always known WSG to be a group that adheres to and abides by their constitution and standing rules. We understand that overturning the disqualification has the potential to set a bad precedent that the rules simply do not matter, and we will fight that perception and work to set a better example for the campus.
RP: What is your main goal for SUFAC?
Perry/Tomachek: It would be only logical to anticipate an increase in segregated funds. We believe in the abilities of SUFAC and trust that whatever they do, it will benefit the student population as best as it can.
Emmett/Ziokowski: Our main goal for SUFAC is to ensure that the work of the committee is to enhance student benefit and involvement through the responsible use of student dollars. It would be unfair to issue a blanket statement that we wish to reduce spending, because each case is different, and using an insufficient amount of money often times leads to a decrease in student benefit.
RP: If you do not win, what will you do to better the Whitewater campus and community?
Perry/Tomachek: We will continue to strive for excellence in academics and the GenEd programs.
Emmett/Ziokowski: We would continue to be involved on campus to ensure that the student voice is heard and fairly represented. We would also most likely continue our work with SUFAC.