Students, faculty step out in 'DanceScapes'
April 2, 2014
By Lea Staedtler
Faculty and students prepare and present dance and choreography talents in the annual DanceScapes performance.
The show features a wide variety of dance and music styles, as well as creative productions blending various styles together.
DanceScapes will take place at 2 p.m. April 6, in the Barnett Theatre. Two more shows are scheduled for 7:30 p.m. April 7 to 8.
Senior Franceszka Lesniak has been involved in the production since her freshman year and choreographed her own piece for this year's show.
The elementary education major from Wichita, Kan., started ballet and tap dancing when she was five years old and has been dancing various styles since then.
For this year's piece, Lesniak came up with a modern dancing choreograph for 12 dancers.
"The piece is done in complete darkness, and the only sources of light are light staffs that the dancers are dancing with," Lesniak said. "So, periodically throughout the piece it might get completely dark on stage, which adds a fun challenge for the dancers of not knowing where they are going when there's no light."
To be part of DanceScapes, dancers and choreographers go through several auditions.
After the first one in the fall, the dancers were required to practice three hours each week in addition to their normal class load, Lesniak said.
"Besides my own piece, I'm also dancing in three others, so that's a 12-hour commitment per week just for DanceScapes," Lesniak said.
In December, a student and a guest judge decided which choreographies were in the performance.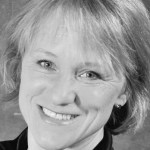 Dance faculty member Barbara Grubel is the artistic director for DanceScapes and also is part of the jury, made up of dance faculty members. She said there is no encompassing theme to the pieces in the show.
"We like to show an array of creative minds and encourage individual ideas," Grubel said. "You will see a wide array of choreographic works, some of which are sad and emotional and some are funny
and lighthearted."
During winter break, she brought in guest artist Daniel Stark from Mankato State University to practice the dances with the students so they could experience working with someone outside of UW-
Whitewater.
"I like to give our students a regional contact so that when they leave Whitewater, and most likely move to a bigger city, they have a contact in the area," Grubel said.
Grubel also is in charge of the overall production of the show. She oversees the students creating costumes and lighting production, as well as the rehearsal and stage managers.
Aside from her and the faculty choreographies, it is a student-run show that gives them the opportunity for practical experience, Grubel said.
Lesniak said she is excited to perform her own piece and encourages people to come with an open mind.
"I hope students get a different exposure to dancing than what they have had before," Lesniak said. "A lot of dancing we see is in commercials or on shows like 'Dancing with the Stars,' whereas the dance world is a lot more than that. Dance should get messages across and bring new ideas."
Prices for the shows are $5.50 with a UW-W student ID, $12 for the general public, $10 for over 65, and $7.50 for 18 and under.