April 9, 2014
By Lauren Piek
A variety of student art projects will be on display during the annual Juried Art Competition Exhibit, from April 7 to 19 at the Crossman Gallery.
Crossman Gallery Director Michael Flanagan said many art mediums are featured in the exhibit, such as paintings, drawings, prints, ceramics, sculptures, metals, computer-assisted design, digital photography and wet process photography.
"It's everything from abstract to representational," Flanagan said. "The subject matter varies according to the individual artist. It's just a nice cross-section of what's going on in our art department."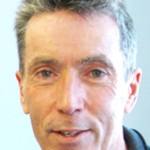 The art department picks the juror by looking for a professional from the region. Sometimes it's an artist, and sometimes it is someone from a museum in the art world, Flanagan said.
This year, Sara Krajewski judged the competition. She is the new gallery director at the Inova Gallery at UW-Milwaukee. Krajewski looked at the 190 works submitted and cut down the total number of entries by about half, Flanagan said.
Awards were presented to artists at the opening reception on April 7. Approximately $1,000 in prizes and gift certificates were awarded for first, second and third place, along with honorable mentions, Flanagan said.
During the exhibit's run, a ballot box will be in the gallery, where patrons can cast their vote for a people's choice award, along with a donation for a cash prize. On the last Friday of the exhibit, the ballots will be counted, and the winner will be awarded that money, Flanagan said.
As the sole juror of the competition, Krajewski selects a winner and awards 22 prizes, ranging from best of show to honorable mentions, Flanagan said.
"She uses her professional expertise to make a determination as to what she thinks is the most accomplished work," Flanagan said. "If a different juror came in for a different show, they would pick different winners. It's one person's point of view, but it's somebody from outside of our department."
Senior ceramics major Natalie Goebel has competed in the juried art competition for the past three years. This year, she entered a ceramic bowl and a screen print.
"The bowl is from my main body of work I just finished," Goebel said. "I didn't really make pieces specifically for the show. My other piece is from my screen printing class."
Sophomore sculpture major Kyle Kaufert also has entered in past exhibits and is competing in this year's annual juried competition.
"I just considered it last minute," Kaufert said. "I have an untitled ceramic bottle in the show that I created last year. I entered pieces in the past exhibit, but none of them won anything."
The competition is open to any student on campus. There are entries from students who are not art majors, resulting in entries from all skill levels, Flanagan said.
The annual juried exhibit provides networking between UW-Whitewater and the people coming in to judge the competition. It's also an opportunity for students to participate in a professional show, Flanagan said.
"For the students' work that is accepted, it's some validation of what they're doing," Flanagan said. "They have been recognized for their accomplishments by someone from outside the university."