Jack Hanna brings zoo to Whitewater community
April 9, 2014
By Michael Riley
176 million Americans visited a zoo, making it the most popular recreational activity in 2013.
Animal expert and world-renowned zookeeper Jack Hanna brought the zoo to UW-Whitewater on April 7. Hanna said UW-W was a fortunate location because of the rare animals that could travel.
Hanna is the Director Emeritus of the Columbus Zoo and Aquarium. Because of the short drive from Columbus to Whitewater; he was able to bring a snow leopard, an echidna and a cheetah.
"My goal for my show is to try and teach," Hanna said. "I want kids and adults to leave knowing that they learned something.  I love doing this for the young people."
This the second time Hanna has made a presentation in the city of Whitewater.
Hanna said his life and work have always been more about education than conservation.  He said in the past week he has been in England, Rwanda and Greece, and that the universal gift he can provide is knowledge.
From his first visit to a zoo at the age of 16, Hanna said he wanted to be a zookeeper.  He said he has been able to live his dream by showing animals to most people who never will see them in the wild.  He said he explains why they are in need of our attention.
Tami Brodnicki, executive director of Downtown Whitewater, said the biggest difference from the 2010 show was the ability to pay online via credit card.  People from more than 50 miles attended the show.
The Downtown Whitewater is a nonprofit group, which raises money to revitalize the downtown area.
Approximately 520 attended the 4:30 p.m. show and more than 375 people were at the 7:30 show.  Tickets for the general public were $25; students, children and people 60 and older were $20.
Kristine Zaballos, also a part of Downtown Whitewater, said the university has been incredibly more helpful compared to the 2010 show, which was held at Whitewater High School.
She said she remembers how incredibly humid it was, and how all of the animals were kept in the girl's locker room.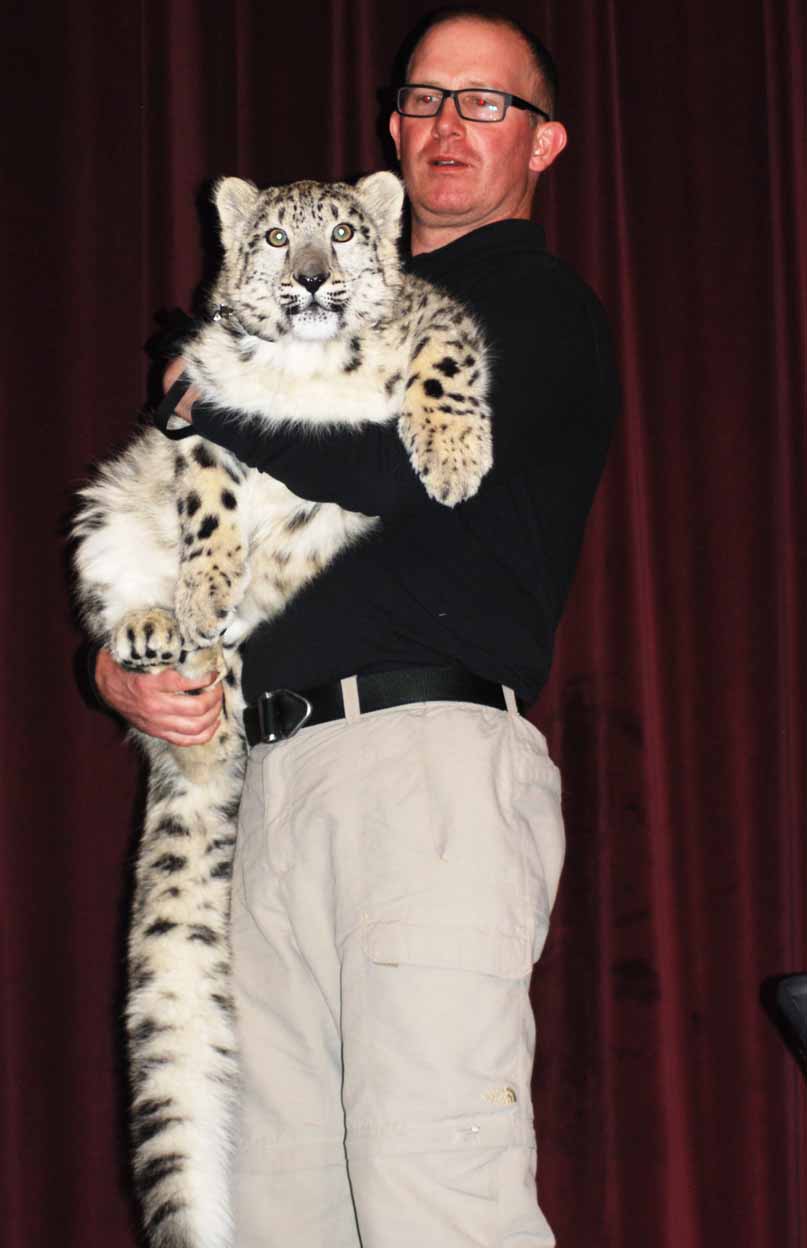 The Hanna event is Downtown Whitewater's major fundraiser of 2014. It will fund a façade renovation fund and a project that focuses on the streetscape improvements.
Sophomore Brianna Jicha decided to go to the event because she said she would love to one day work with animals like Jack Hanna.
"As a marine biology major, I thought that this was one of the best things the campus offered this year for someone like me who are interested in working with animals," Jicha said.
Hanna said although he has been seen on Ellen, Fox and Friends, CNN, Good Morning America and been a guest on the Late Show with David Letterman for over 15 years, he never sought the attention.
"I have never had an agent and don't use a computer," Hanna said. "I have wanted to work with animals since I grew up on a farm as a kid.  The world is getting smaller and smaller, and I have the chance to make a difference in the lives of people and animals."
Hanna said although college students live in a different generation than their parents, he believes they have an incredible opportunity to be informed and engaged players in the world and all its animals.