May 7, 2014
By Paul Bressler
Senior Alexandra Bayliss, the most accomplished tennis player in UW-Whitewater history, can add yet another award to her collection after winning Royal Purple's 2014 Female Athlete of the Year.
"That's really cool," Bayliss said. "Honestly, I probably don't deserve it. I'm sure there are tons of Whitewater female athletes that have had phenomenal seasons this year, but I'm honored to be chosen."
In four seasons at UW-Whitewater, Bayliss has compiled a win-loss record of 210-68, which is a win percentage of more than 75 percent. Last fall's tennis season saw Bayliss surpass Amy Siemon's mark of 175 combined singles and doubles wins. Bayliss notched her 200th win on March 26 in Hilton Head, S.C., with senior teammate Jackie Vitale in a doubles win.
Bayliss has an unblemished WIAC record in singles competition. She has contributed to four WIAC championship teams and won six individual conference titles (No. 5 singles in 2010, No. 4 singles in 2011, No. 2 singles in 2012, No. 1 singles in 2013, and No. 1 doubles in 2011 and 2012).
In 2014, Bayliss was named the WIAC/Judy Kruckman Scholar Athlete. She is only the eighth Warhawk to receive the award. In each of her four seasons, Bayliss has recorded 24 or more singles and 20 or more double victories. She holds a singles mark of 114-21 and is 96-47 in doubles play.
With a major in elementary education and a minor in Spanish, Bayliss said she wants to be able to give back to the city she grew up in after graduation.
"I'm excited for that," Bayliss said. "As a teacher, my schedule will allow me to also be a tennis coach, so hopefully I'll be able to do that at the high school or wherever I'm teaching. I kind of want to go back to Sheboygan and find a job somewhere around there. Ideally, I would go back and be the coach of my high school [Sheboygan North] team. Girls and/or guys, I don't care."
Bayliss said she believes in her team's abilities this upcoming postseason.
"I think we definitely have the talent to win the first three rounds," Bayliss said. "If we all just put it together and everybody plays really well in all our matches, we can definitely make a long run. Hopefully we do. It's my last year. It would be nice to go out and do the best that we've [ever] done my senior year."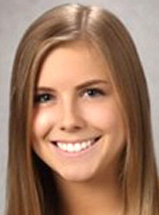 Freshman all-around gymnast Katie Fiorilli came in second place for the Royal Purple's 2014 Female Athlete of the Year and finished just one vote behind Bayliss.
"It's such a huge honor," Fiorilli said. "Coming in as a freshman and really not having any huge expectations of what the season would bring to me but being [recognized] by you guys, that's a huge honor to be recognized outside of the sport."
Fiorilli sees a bright future for not only herself but the team as well. The team isn't done yet, and it has its sights set on a 4-peat next year and coming together even more as a team.
"I was very happy with my performance," Fiorilli said. "We [learned] to really go out as a team and bring it for each other and not just for yourself. Getting defeated at conference, we used that as motivation to kill it at nationals."
Senior guard Mary Merg took third after the culmination of a great season and a better career.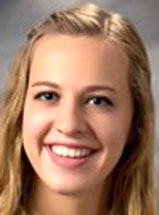 "It's a great honor to be considered as a candidate in that category," Merg said. "There's a lot of great female athletes in UW-W athletic program, and so to just be considered is a great honor."
Merg is the women's all-time leader in games played (122) and points scored (1378). She sits ninth all time in assists (277), fourth all time in steals (192) and 29th all time in rebounds (394). The Warhawks took third place in the NCAA Tournament and finished second the previous year.
Bayliss' memorable career may be coming to a close, but looking back on it brings a smile to her face.
"In a way it's bitter sweet," Bayliss said. "I'm more sad than happy. Tennis has basically been one of the biggest parts of my life since I was three years old when I started playing. Looking back it's crazy on how much fun it was, how many awesome experiences I've had, all my teammates have been amazing. All the memories I've had. I'm not going to forget anything."