May 7, 2014
By Kevin Cunningham
Two seasons away from winning a national championship back in 2011-12, men's head basketball coach Pat Miller entered this season with more than just a title in mind.
Royal Purple's Coach of the Year award winner and former national championship-winner as a Warhawks player back in 1989 had to deal with back issues throughout the season. After numerous doctor visits and dealing with pain, Miller got his surgery during the regular season at a time when his team needed him the most.
Miller's surgery came before the game against the 20-0, No. 1-ranked UW-Stevens Point Pointers.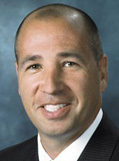 "I was as comfortable as I could possibly be with my personality [handing the team over to assistant coach Nick Bennett]," Miller said. "I was really confident in his ability. The fact that we had an upperclassmen-dominated team who had been through those types of contests also was helpful."
Junior point guard Quardell Young said his coach showed a lot of toughness throughout the year, which meant a lot to his players. After the 81-76 overtime victory against UW-Stevens Point, Miller said that game was probably the statement game that set the tone for the rest of the season.
The Warhawks went on to win their final four regular season games before losing to the Pointers in Stevens Point in the WIAC Championship game by 17 points. Once the NCAA Tournament rolled around, the Warhawks appeared to have as tough a draw as anybody, possibly having to go back to Stevens Point to play the Pointers in a potential Elite 8 matchup.
What some considered as lucky for the 'Hawks, the Pointers lost in the Sweet 16 game against Emory University. The red-hot Warhawks went on to defeat Emory, 74-51, the next day to reach the Final Four.
"At that point we were playing with a lot of confidence," Miller said. "It would have been a difficult game, there's no doubt about it. But that's what makes the basketball tournament so great. It doesn't take much for a team like Emory to get hot and play the game of their lives."
The 'Hawks then went on to defeat Illinois Wesleyan in the Final Four and beat Williams College, 75-73, on a game-winning and-one layup by Young with 0.9 seconds remaining as the team trailed, 73-72.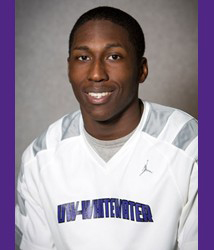 "Week after week you develop not only a bond with your teammates, but with your coach," Young said. "You cherish that. As much of an excellent coach he is on the court, he is an excellent coach off the court. His support for his players is just like they are his own children."
When it comes to Xs and Os, Young said Miller comes second-to-none when comparing the coaches he has had in the past. He said Miller comes up with strategic game plans, he understands players' roles at different times and knows who to get the ball to when they're hot during a game.
Young also said the job Miller did this season beat out the work he put into winning the title back in 2012.
"In 2012, the focal point was on [All-American center] Chris Davis," Young said. "They couldn't stop him inside and they couldn't stop him outside. It made things a lot easier for the supporting cast. This year it was more balanced. It was definitely harder for him this year."
Numerous coaches were considered when voting for the Royal Purple sports section's Coach of the Year award. Miller was voted to win over football head coach Lance Leipold, who came in second and gymnastics head coach Jennifer Regan, who finished third.