Oct. 1, 2014 By Kali Schmieding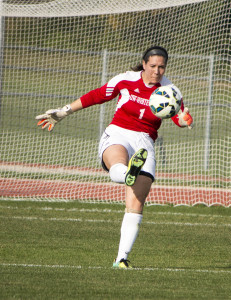 The women's soccer team (8-2, 2-0 WIAC) tied the school record of five consecutive shutouts with a 2-0 win over the UW-River Falls Falcons Sept. 27 at Fiskum Field.
The last time this was accomplished was in 2012. The 'Hawks have not given up a goal in over 455 minutes.
In the first minutes of the game the 'Hawks put pressure on the Falcons. Within the first seven minutes, the 'Hawks had two shots on the goal.
"We have been doing very well," head coach Ryan Quamme said. "We tied the school record yesterday with our fifth straight shutout. Obviously if you give up zero goals were going to win a lot of games. So we are very pleased with where we're at and our future."
Sophomore forward Carly Pottle, during the ninth minute, scored first off a rebound from freshman midfielder Marie Lesperance.
"Carly Pottle had a great game," Quamme said. "She brought a lot of energy to the match. She got the early goal. I thought Carly's first 15-20 minutes of the match was really key to us getting the result yesterday."
The 'Hawks outshot the Falcons 8-1 in the first half.
At the start of the second half the Falcons came out strong.
The team had two shots on the goal and three corner kicks within the first seven minutes.
The 'Hawks defense held off the Falcon's offense.
Sophomore forward Brianna Reid found the net in the 55 minute off an assist from junior midfielder Jenna Woodson.
"We came out slow in the second half, but then gained momentum back after our second goal," Woodson said. "Our team is doing better on connecting passes and our defensive shape is better. We aren't letting people get behind us as much."
Senior goalkeeper Jordan Myers earner her 28 career shutout. Myers is currently 51 saves shy of the school record with 305 career saves.
"I like the progression and where we are at heading into conference play," Quamme said. "We have a big test the next two weeks. We have a challenge coming up with four games on the road, but I think the team is ready for it."
The 'Hawks have won the last 23 regular season games in the WIAC.
"I am looking forward to the conference games," Woodson said. "In the past years we have been dominant in the WIAC and every team wants to beat us, but we are up for the challenge and we know the only way to for sure be in the NCAA tournament is by winning our conference games and conference tournament."
The 'Hawks will be looking for a 24 consecutive WIAC win against the UW-Platteville Pioneers at 5 p.m. Oct. 1 in Platteville.