Oct. 2, 2014
By Rumasa Noor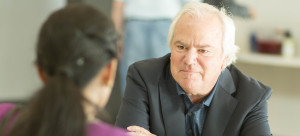 When someone says frozen custard, the first thing that comes to their mind is Culver's. Despite its familiarity to many Wisconsinites, many frozen custard lovers may not know the story behind the family company.
Craig Culver, owner of the famous fast food franchise Culver's, was invited by the Whitewater Innovation Center to share the story of Culver's success on Sept. 25.
The Culver family first started the restaurant chain in 1984.
"Most people think that the first words out of my mouth would be the product but that's not the secret," Culver said. "I thought at one time that was a secret, but over the years I have discovered that the secret to our continued success is people."
Prior to opening Culver's, the family owned and operated a number of businesses including A&W Root Beer, which the family sold and later repurchased.
Their first adventure started in Sauk County and ultimately ended up with Culver's, which proved to be their most successful business to date.
Culver graduated with a degree in Biology from UW-Oshkosh. He said he originally didn't plan on working in the food service industry, as he knew this business would require 100 percent of his time.
He saw his parents working long hours, starting from early in the morning going on until late at night, seven days a week, which made him realize he didn't want to do that.
After working at McDonalds, he said he started "turning into his dad" and began to see the entrepreneurial spirit in himself.
Culver said he learned many things about business and not just from his parents but from McDonald's as well.
His dad told him to never compromise on the quality of their products, even if it means they have to raise their price.
Culver's said his dad had a disability and he eventually lost his eye sight, but he "didn't know the word 'quit'."
The franchisor said the secret to his chain's success is not just the product.
"People that believe in what we do, people that care about other people, people that cared to make a difference with other people, it's people with a heart, people that serve our product with a please and a thank you, and a smile. That's really the secret to the success of our business," he said.
Culver also emphasized on the importance of being passionate about business.
"Passion is terribly important," Culver said. "If you don't have the passion for it–love for it – it's not going to last very long," Culver said. "You are going to fail at times, as well. You are going to make mistakes. Don't give up, get back at it again."
Being a successful entrepreneur himself, Culver also gave useful advice to aspiring entrepreneurs. He said they need to have a concept that is practical.
"They have got to have something that works, something that other people want, that's the whole idea of business – selling something that other people want," Culver said. "Once they got that, they have got to figure out how to get it to those people and how to deliver their product to the masses."
UW-Whitewater alumna Sara Amiri said listening to Culver's story made her feel very inspired. She said his story motivated her to start her own business, despite having limited resources.
Culver has been visiting Whitewater since early 2000s, said professor William Dougan.
"He [Culver] is a great example of the best and brightest of Wisconsin and of the best characteristics of those who live in Wisconsin, which is hard work and effort  and generosity and a sense of industry and these things personability and all of these things have led to in the long run to success," Dougan said.
Culver said his franchise won't go international, he plans on keeping it in the U.S.