Rain ends second day of play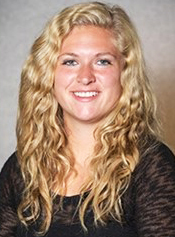 Oct. 8, 2014 By Ryan Altman
While playing scholarship schools may be intimidating to some, sophomore Amy Upthagrove looked at last weekend's Warhawk-Panther Invite as an opportunity to increase the team's level of confidence going forward.
"Any time you're playing a really good opponent, you look on improving parts of your game that you feel you can work on," Upthagrove said. "To us, it was a huge boost of confidence."
Behind this confidence, the 'Hawks won three of 10 combined singles and doubles flights against a myriad of teams from institutions ranging from
Division-I to NAIA at Wangerin Courts and the Premier Tennis and Fitness Center in Janesville.
Upthagrove retired in her first singles match on Friday due to a shoulder injury, but rebounded later in the day to reach the No. 2 doubles flight semi-finals with her partner, junior Ashley Miller, defeating Arianna Demos and Nicole Jones of D-I Western Illinois, 8-6.
The pair finished fourth after dropping their semi-final and third place matches.
Sophomores Rachel Siemon and Brooke Hendricks highlighted Friday's play, defeating D-I UW-Milwaukee's Aerielle Pendleton and Chelsea Bailey, 8-5, in the No. 3 doubles flight championship match.
Siemon and Hendricks were bumped up to the third flight
after Barnes made the decision to place three of the 'Hawks' doubles teams in the top two flights, including two pairings in the No. 1 draw.
"[Brooke and Rachel] played great," head coach Frank Barnes said. "They played against [UW-Milwaukee's] No. 3 doubles team, too. That was a really good win for them."
Also victorious on Friday was 'Hawks junior Paige Seldal, who teamed up with Amanda Susnak of Hope College in flight No. 4 to beat fellow 'Hawks pairing, freshmen Kelsey Laktash and Gabriella Gregorio, 8-6.
Sophomore Megan Humphreys and freshman Jillian Wallace finished third in flight No.1.
"One of great things about our team is that anybody in the lineup can play anywhere in it," Upthagrove said. "I think the results definitely showed this weekend."
On Saturday, only six of eight singles flights were completed after the No. 7 and 8 singles flights were cancelled due to the weather.
Freshman Alexandra Talyansky picked up the lone singles title for the 'Hawks, beating Grand Valley State's Rachel Sumner, 8-3.
Wallace (No. 5) and Siemon (No. 6) also reached their flight's respective championship matches, but both finished in second place. Freshman Alicia Beck won the consolation final in flight   No. 5.
Next week on Oct. 9 in Sumter, South Carolina a trio of 'Hawks will compete in the Intercollegiate Tennis Association Small College National Championships.
Humphreys will represent the 'Hawks in singles, while Beck and freshman Bridgid McGuire qualified in doubles.
Humphreys finished fifth at the 2013 ITA Small College National Championships in Fort Myers, Florida.
Barnes felt the Warhawk-Panther Invite was a helpful tournament as the three will face a similar playing field next week.
"These teams are exactly the kind of competition they'll see," Barnes said. "It's the perfect competition."